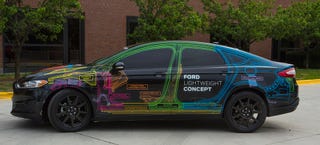 What you're looking at is a Ford Fusion. It looks like perfectly average, mid-sized sedan on first glance (albeit with silly graphics), but what it actually is, is the future of driving for the average American family. And that's because Ford managed to put it on a diet, to the tune of a massive 800-pound weight loss.
A regular Ford Fusion weighs about 3400 pounds. This one weighs about 2600. It's like taking an extremely large person, plus their motorcycle, out of the trunk. It's huge.
To put that in perspective, it weighs about the same as a Ford Fiesta, with a small dog in the passenger seat.
And Ford accomplished most of it through the tried-and-true method of replacing almost every piece of steel they could with aluminum. It helped the company take 700 pounds out of the 2015 Ford F-150, and in the Fusion application the car is 23% lighter than the standard model, according to Raj Nair, a FoMoCo VP of Product Development.