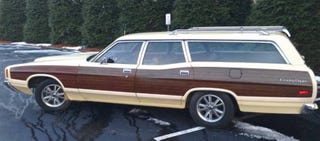 The classic ships of yore - schooners, noah's ark, etc- were all built with wood. Today's Nice Price or Crack Pipe Country Squire is coincidentally a land yacht paneled in fake wood, but will its price also have you saying yes I would?
Hi, I'd like you to buy this new homebrew I've just concocted, it's made from other beers and some stuff that I found laying around, maybe some shoe polish or old Clamato. Here, you try it, as I'm done sipping it.
You wouldn't drink that, would you? No, I didn't think so. And according to 72% of you, paying eighty five hundred for someone's questionably complete 1970 VW Squareback with an EJ25 should also be on your NOT to-do list. That poor VW owner has tried moving that wagon for months, but to no avail. At least it's a reasonably sized car and probably doesn't take up too much space, unlike today's candidate.