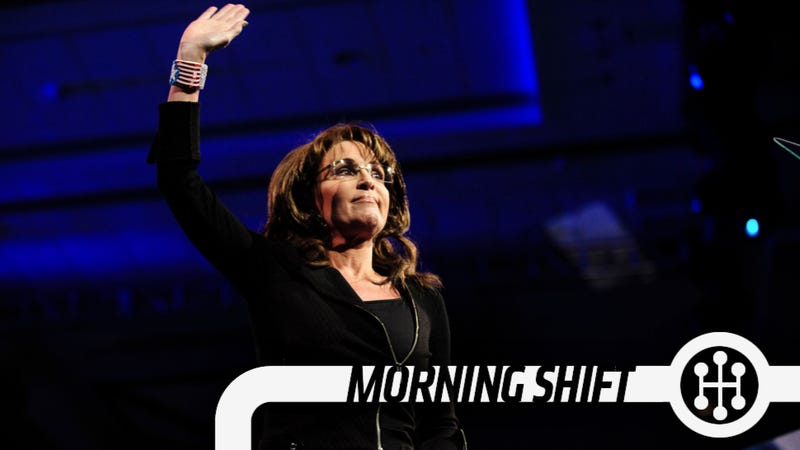 This is The Morning Shift, our one-stop daily roundup of all the auto news that's actually important — all in one place at 9:00 AM. Or, you could spend all day waiting for other sites to parse it out to you one story at a time. Isn't your time more important?
Oh boy, we're going to talk Tesla today. And Politics. So this should get exciting. Also, I'm going to come to the defense of Tesla not once, but twice, and say some things about Sarah Palin. If any of that is going to offend you it's probably best to stop reading right now.
May I suggest a GIF roundup of the Astros victory last night that includes a guy catching a ball in his beer and then chugging said beer? That's an America I think we can all agree on.
1st Gear: Sarah Palin Calls Fisker, Tesla A Loser
I do not regularly read the Facebook pages of politicians, much preferring Facebook pages dedicated to flying cars, thus I'm going to be a little late to this news.
Sarah Palin, apparently, wrote that Fisker and Tesla were losers. She also called Tesla, the Volt, and Fisker "Obama-subsidized." Where to start?
Fisker is definitely a loser, there's no doubt about it. The Chevy Volt? You could argue it either way, but sales are up and it's a first stab at a big technological shift for the automaker so I'd take issue with the claim. Tesla has lost something like a billion dollars since its founding ten years ago, but every other car company wishes they could build the Tesla Model S and, eventually, the company will be successful. Even if that means getting sold first.
She may be an expert at losing, having lost the third most important thing you can lose (Vice Presidency, which is third after the Presidency (2nd) and the Pennant (1st)), but she's mostly wrong here.
Obama-subsidized, though? No. The Advanced Technology Vehicles Manufacturing Loan Program (AVTM) was created by the Bush administration and the original applications were approved by the Bush administration. If anything, the complaints against the Obama administration center around him not approving more of the loans. In the sense that President Obama pays taxes, yes, but then again it's also a Sarah Palin-subsidized Fisker, too.
So… wrong and wrong. Now let's get to the next charge:
… or like the Obama-subsidized Tesla that turns into a "brick" when the battery completely discharges and then costs $40,000 to repair.
We are definitely the experts on Tesla bricking and it's true that a bricked first-gen Roadster with a battery problem would have cost you $40,000 (though Tesla may have bought off most of the people who had a bricked Roadster with cheap/free batteries). For all we know Ms. Palin is a Jalopnik reader (we both love snow machines) and got that info on this website. Awesome. Happy to have you here.