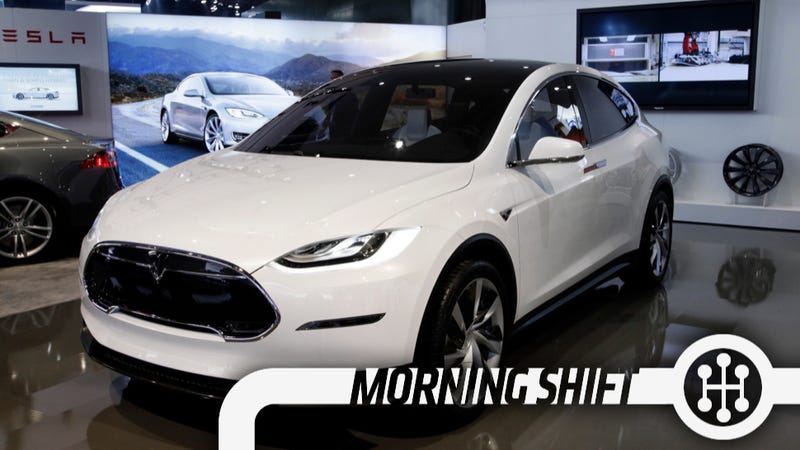 This is The Morning Shift, our one-stop daily roundup of all the auto news that's actually important — all in one place at 9:00 AM. Or, you could spend all day waiting for other sites to parse it out to you one story at a time. Isn't your time more important?
1st Gear: The Tesla Problem
Right now, our biggest issue with Tesla is that we write about them so damn much these days we're running out of AP and Getty photos of the cars or of Elon so… we need to get on that. In the meantime, here's a 13-year-old photo of Musk with Peter Thiel. Sure, I could have used any one of the many photos of him with a beautiful woman around his neck, but now that he's a leading CEO he gets the same treatment Carlos Ghosn gets.
There are two key bits of news that are interesting this morning:
First, the stock edged above $100 in early hours trading as people keep betting on the company. Great for them. Elon Musk stuck to his vision, rode out the waves of doubt from nearly everyone (including us), and is enjoying the benefits.
Second, we've got better parameters for the affordable car Musk desires to build from the AP.
"With the Model S, you have a compelling car that's too expensive for most people," he said. "And you have the Leaf, which is cheap, but it's not great. What the world really needs is a great, affordable electric car. I'm not going to let anything go, no matter what people offer, until I complete that mission."
That is exactly the right attitude and I'm excited to see how the hell he's going to pull it off.
Nicer than a Leaf, cheaper than a Model S, the company can't be sold (as many think is inevitable) until that gets done.
2nd Gear: F-150 EcoBoost Engines Like A Rock?
The Feds are looking into Ford F-150s with the V6 EcoBoost engines after reports of power loss.
NHTSA says there are around 400,000 trucks with that engine and it's had 95 reports of the EcoBoost V6s dropping power, often in rainy or humid weather, under hard acceleration.
Ford apparently told its dealers how to repair the problem but hasn't shared the knowledge with customers.
3rd Gear: OnStar In The Money
OnStar is working out for GM, making big profits (a margin of 30% to 35%) on revenues of around $1.5 billion a year. Understandably, as Automotive News reports, GM is looking at a way to expand those revenues.
We've already reported that GM wants to make money with AT&T 4G and now that they'll have that connection they want to see how else they can make money from it.