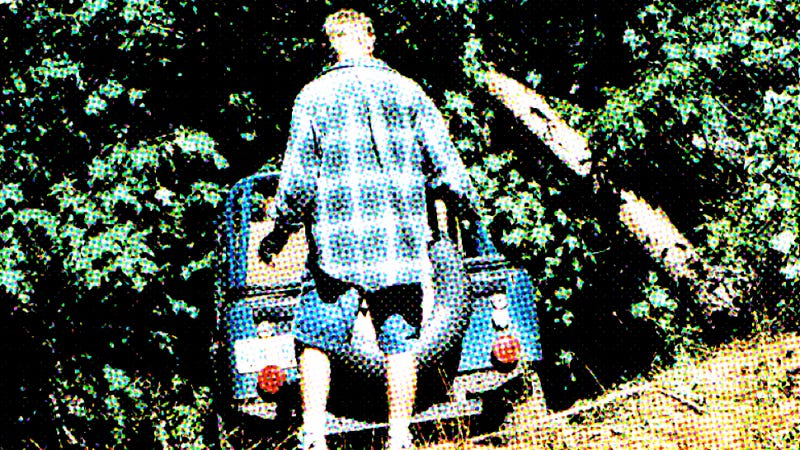 A few summers ago, my brothers and I were riding mountain bikes on a red dirt logging road through the woods at the desolate tip of the Keweenaw Peninsula in Upper Michigan. All adults, we were on an annual bike riding vacation with no agenda. Then we found this.
We had been riding for a few hours and the sun was still high when we passed a Jeep which was nearly standing on its grill, nose-down in the ditch by the roadside, almost completely obscured by trees and bushes.
"Hey, let's take a look at this," one brother called out, in a tone of voice that meant he was going to stop and take a look. We hadn't seen another person in several hours, so we left our bikes in the middle of the road. One brother climbed into the Jeep which was missing its windshield and pretended he was driving it.
Ken slid down the embankment beside the Jeep and looked at the front end. Ken owned an old Jeep and had probably seen his at a similar incline while out mud bogging with his four wheel drive club. This one had rolled before coming to a stop, since the top of the windshield frame was crushed, but there was no sign of blood and no body. "This guy didn't know what he was doing," Ken declared after going around and looking at the other side of the Jeep's front end.
"No kidding," someone answered and we all laughed.
"Are you suggesting that the driver of this Jeep could have gotten this out of here?" I asked.
"This is a CJ with un-locking front hubs. The hubs are disengaged right now. When he got this stuck like this, you'll notice –" Ken pulled back a small sapling to give us a better view, "he spun the back tires but not the fronts. It didn't matter that he had the transfer case in four wheel drive."
"So what?" I asked. I had owned a Jeep as well, albeit a modern one. "You couldn't drive this thing out. It's almost vertical."
"If I had the keys, I could drive it out. Guaranteed." Ken was an engineer and often spoke with this confidence, and a tone of mathematical, provable certainty. "All four wheels are touching the ground." Ken is also the one who rebuilt the Hemi in our garage the summer after he graduated high school.