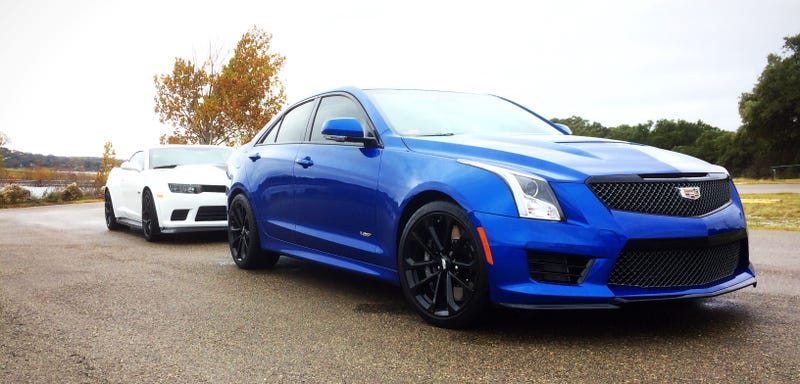 I have always been a big fan of American cars, terrible handling and all. None of my friends who owned Audis, AMGs, Bimmers understood this affection. I didn't care. It was a cheap way for me to enjoy gobs of torque, and the occasional fishtailing. (Plus, while I spent $30 for an oil change on my Ford they were spending half their salary replacing the alternator in their precious E63 AMG.)
All that's changing, though. In recent years American cars haven't just become faster and better, they've become much more sophisticated—and also much more expensive.
The Cadillac ATS-V and Chevrolet Camaro Z/28 are two fine examples of how far American cars have come. They're no longer the old school, can't-turn worth a damn muscle cars. These cars are now as good as if not better than some of the finest cutting-edge technological marvels the carmakers of Europe can put on the road today.

I met Chris a while back. He owns a beautiful 2016 Cadillac ATS-V. He and a friend of his—who is also named Chris, must be a GM thing—owns a 2015 Chevy Camaro Z/28. Both brought their new-school American cars to the very last Austin Cars and Coffee of the year.

Now, Cars and Coffee is typically not an event where you show up to drive other people's cars. It's a car show where you go to admire other cars, maybe have a conversation or two and then go back to your own car which you immediately start resenting. You might spend the rest of the day sulking around the house hating your GT-R, unable to get the magical Cars and Coffee 911 GT3 RS out of your head. But every so often an opportunity to drive other people's prized possessions arises, and when that happens, everything is beautiful.