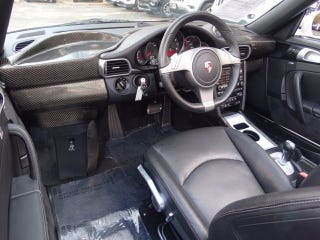 The Porsche 911 has only one problem, if you want to travel with passengers in the back seat they can't have legs. Someone decided to "improve" the 911's cockpit by moving the steering wheel to the middle, like a McLaren F1. This creation can be yours for $53.491.
What you are seeing is the "Centro 911," made by a company called Trinity Motors back in 2012. An "anonymous" enthusiast initially wanted to make a center drive Lamborghini, but decided that car was "too expensive" and instead commissioned the conversion of this 911.
It took over 4,000 hours to convert a left-hand-drive, PDK-equipped 997 to a center drive car. The car was apparently taken apart and reassembled over 30 times to get the conversion right and it looks pretty good. If you didn't know any better, you could have sworn this was some Porsche factory experiment. There is even a track system that slides the seat near the door for easy entry and exit. This is also not the only 911 to be converted to center drive, as someone did a coupe as well.