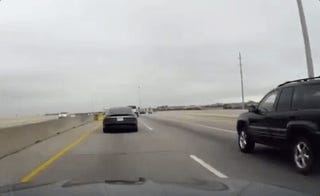 My god, people. Tesla's Autopilot requires constant human supervision—Tesla knows it, we know it, you should know it. In case you don't, here's another helpful video: A Model S running into a highway barrier near Dallas, after it failed to recognize the roadway and merge into another lane.

First noticed by Electrek, the Tesla driver conveyed what went wrong this week in a Reddit thread:
So I was driving in the left lane of a two lane highway. The car is AP1 and I've never had any problems until today. Autopilot was on didn't give me a warning. It misread the road and hit the barrier. After the airbags deployed there was a bunch of smoke and my car rolled to a grinding stop. Thankfully no one was hurt and I walked away with only bruises.
Here's a shot of what happened to his car as a result:
Another Redditor, remarkably, had video of the accident, and it showed a situation that human intervention was almost certainly needed.