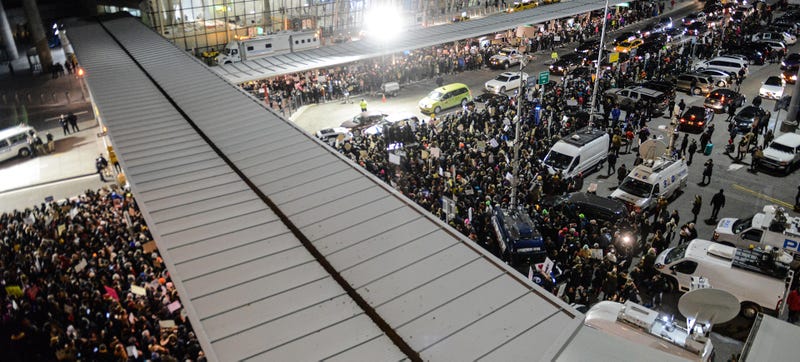 This weekend, in the face of the White House's executive order barring entry to anyone from seven Muslim-majority countries, the New York Taxi Workers Alliance stopped fares at John F. Kennedy International Airport, bringing attention to JFK just as thousands of other residents streamed in to fight the ban. It was a small but visible piece of protest that culminated, thanks to work by the ACLU, with the courts issuing a temporary stay on Trump's edict. Here's how they did it.
When the Muslim Ban was first announced on Friday, it was clear to Bhairavi Desi, founder and head of the New York Taxi Workers Alliance, that it was going to have "a ripple effect" on her constituents. She could not sit idly by. So she didn't. The statement and strike she organized brought visibility, urgency and humanity to the campaign against the ban, carried forward to the successful (but again, temporary) judicial opposition to the executive order. New York City's taxi drivers did not end the fight against the Muslim Ban; they helped get it started.
Trump's Muslim Ban is of everyone's concern. It would be enough that it stands directly against America's laws of not discriminating against people for their race, religion, or country of origin. It would be enough that it's actively bad for our country's campaign against terrorism. The both of them together should be enough to convince every American that this is a bad idea. But every American didn't show up to campaign against the ban. New York City's 19,000 organized cab drivers did.

I spoke with Bhairavi Desai to get a sense of how the protest and strike came together, if only as a guide for any other group facing a situation like this in the coming years.
"Yellow cab drivers have been found to be independent contractors," Bhairavi pointed out to me over the phone, while getting ready for Sunday's big protest in downtown Manhattan, not quite within earshot of Wall Street and City Hall. "We don't have a dues checkoff. We don't have collected bargaining. But the courts don't decide who is a union. It's the worker's decision."
This take-charge attitude is very much the spirit of Bhairavi's organization. When I asked her what others should do if they find themselves in a similar position to NYC's cabbies, her answer was clear. "I would say, first and foremost, don't be afraid. Second, rise up." Their work this weekend validated that attitude, with booming support from the city culminating in a federal judge's temporary stay on the ban, with many more lawyers still fighting each individual detainee's case in airports across the country.
The Timeline: Follow Up A Statement With Action
The timeline of the New York Taxi Workers Alliance's organization was similarly to the point. "There was a deep-seated sadness on Friday," Bhairavi said, when the ban was first announced. "I mean, not just on Friday, but that was when it boiled over."
Airport protests sprung up the next day, with one set to take place at JFK at 6 p.m. "Seeing others protest at airports inspired us. How could we not stand in solidarity?"
Early Saturday afternoon, Bhairavi's New York Taxi Workers Alliance put out a statement condemning the act in the strongest language we had yet seen. There was no tip-toeing around the point with language of "the magic of America."