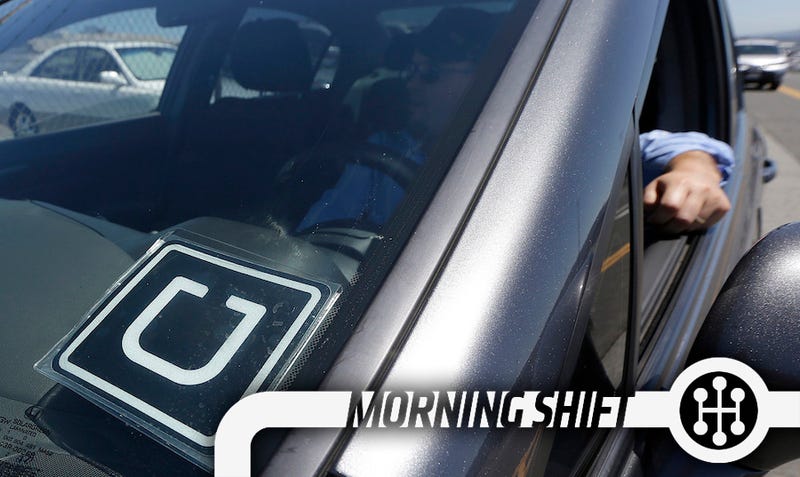 Good Morning! Welcome to The Morning Shift, your roundup of the auto news you crave, all in one place every weekday morning. Here are the important stories you need to know.
1st Gear: The 'Sharing Economy' Won't Kill Cars
These days, Uber has a greater valuation than General Motors does, which is kind of insane. GM and other established automakers have had a lot of trouble getting love from Wall Street lately—trouble proving to analysts and investors that they'll be able to weather the next economic downturn and won't get killed by tech startups eventually.
Considering Americans bought about 17.5 million new cars in 2015, I think that's more than a bit short-sighted. Here's one person who agrees, via Bloomberg:
Greenlight Capital Inc. President David Einhorn, however, isn't in a forgiving mood. He said the death of the car industry has been greatly exaggerated by the kind of people who don't need a parking space.

"People who predict this tend to work in tall buildings," he told a crowd of more than 3,000 at the Sohn Investment Conference in New York Wednesday, referring to urbanites who powered Uber's ascension. Einhorn made his proclamation as he pitched Greenlight's bullish position in GM. "We don't think ride-sharing will have a material impact on auto sales for many years, if ever."

His skepticism runs counter to surveys suggesting that one-fifth of Uber users are delaying buying a car because of the availability of the service. Yet at Sohn, fellow hedge fund manager John Khoury echoed Einhorn's notion that the death of 20th-century industry players is far from certain.
It's true that the traditional model of car ownership may evolve thanks to ride-hailing services, and players from GM to BMW and Ford are addressing this in different ways, but I don't buy that automakers are facing some kind of existential threat.
2nd Gear: Tesla Stumbles
But don't think it's all sunshine and rainbows for all the tech newcomers. Wall Street analysts and industry observers raised eyebrows at Tesla's extremely ambitious plans to build 500,000 cars a year by 2018. From Bloomberg:
Shares in the electric-car maker fell 4.9 percent to $211.71 at 1:28 p.m. New York time. The shares had surged late Wednesday and early Thursday after Tesla moved ahead by two years its target date for reaching annual production of 500,000 vehicles before sinking on skepticism about the ambitious assembly goals and concerns about cash.

Tesla said in a letter to shareholders Wednesday that to meet the new production target, capital expenditures this year will probably be about $750 million more than the $1.5 billion originally planned. A capital raise of about $2 billion would dilute current owners by about 7 percent, UBS analyst Colin Langan wrote in a note.

"Ultimately, we see the new volume targets as too aggressive, setting up investors for disappointment," he wrote.
3rd Gear: Honda Reinvents The Assembly Line
Automotive News has an interesting story on the clever way Honda has boosted assembly line efficiency by 10 percent at its Thailand plant where the Civic is built:
The fresh approach has a team of workers follow the car down the line, with the workers and vehicle sitting on disc shaped platforms like frogs floating down a river on a lily pad.

Honda dubs it an ARC line, short for assembly revolution cell.

The new line, which began running in March at Honda's newly opened Prachinburi assembly plant in Thailand, is cheaper to install, uses less manpower and is more efficient to operate.

In Thailand, teams of four people doing final assembly work travel with a vehicle as it snakes through a U-shaped line. Parts and people are loaded aboard the conveyor at the start of the U. After they move around the loop, the empty parts boxes are taken off, and the workers hop off. They then walk across to the starting point and climb aboard with their next vehicle.

The process cuts unnecessary worker movement back and forth from parts racks and divides the car into quarters, assigning one worker responsibility for all processes in a certain area.
Honda has no immediate plans to expand the idea to other plants, but it could be used at new or renovated facilities.
4th Gear: The Right Questions About Driverless Cars
In yesterday's Morning Shift we addressed the idea that maybe people don't want autonomous cars. Citing untrustworthy technology, that's what they have indicated in various surveys.
But at Automotive News, editor Krishnan M. Anantharaman wonders whether people aren't being asked the right questions:
Distraction alone is a growing area of concern, and it's not limited to chatterbox teens. The National Highway Traffic Safety Administration's definition of distraction also includes activities such as eating, grooming or daydreaming while driving, the inevitable results of our long commutes and packed schedules. In 2014, the latest year for which NHTSA has final figures, there were nearly 30,000 fatal crashes in the U.S., of which 10 percent involved distractions of some kind.

[...] Ask people whether they would trust a self-driving car, and they may tell you no. But ask them whether they'd want the pickup truck bearing down on them from behind to have automated braking and adaptive cruise control, or whether the drowsy teen in the next lane should have lane-keep assistance, and you might get a different answer.
5th Gear: Partnerships!
A little more from The Detroit News on how established players are teaming up with new tech companies:
Lyft Inc. and General Motors Co. are developing self-driving Chevrolet Bolt EVs that could pick up passengers for testing in California within a couple of years, The Detroit News confirmed Thursday. Ford Motor Co. earlier in the day announced a major investment in Palo Alto-based software company Pivotal to develop cloud-based software for alternative mobility services. And Fiat Chrysler Automobiles NV and Google on Tuesday said they're developing autonomous minivans and will begin testing this year.

The unprecedented pace of change is pushing technology companies and automakers to aggressively partner, invest in and develop next-generation technologies in an effort to stake out positions in a driverless future. The partnerships are needed for both the auto and tech industries to push beyond horsepower and torque to infotainment and autonomy. Silicon Valley has speed and credibility with technology, while the Motor City has brick-and-mortar factories and experience mass-producing vehicles.

"Without some partner, we really wouldn't be focusing on this right now," Taggart Matthiesen, Lyft's director of product, told The News on Thursday. "I really like the GM partnership because what they focus on and what we focus on are completely two different aspects of yet two pieces of the much larger problem."
Reverse: Harry Grant