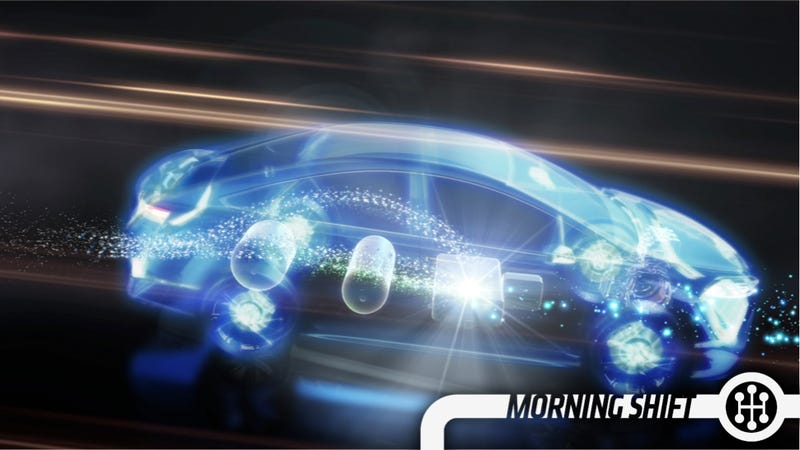 This is The Morning Shift, our one-stop daily roundup of all the auto news that's actually important — all in one place at 9:00 AM. Or, you could spend all day waiting for other sites to parse it out to you one story at a time. Isn't your time more important?
1st Gear: Toyota Has A Hydrogen Car Coming In 2015
So, Toyota's FCV-R Concept is a preview of the first Toyota hydrogen fuel cell car, which they say will launch in 2015 to what we expect is a limited audience.
The details? It's the Hybrid Synergy Drive they use in the Prius but they use a hydrogen fuel cell instead of a gasoline engine. Impressively, they claim it'll go 420 miles and produce no C02, N0X or particulate matter emissions. Like all hydrogen fuel cells, it just produces water.
Here's the nut, though:
Toyota expects FCHVs to reach full mass-market commercialisation during the 2020s, by when it aims to be selling tens of thousands of vehicles annually. This market growth will be supported by the wider roll-out of fuel cell vehicle technology; the development of hydrogen refuelling infrastructure that will bring filling stations within easy reach of greater numbers of people; and cost reductions that go hand-in-hand with a maturing technology.
Toyota is having a big celebration of its hybrids right now in Michigan, a sign in the minds of some that they're worried the trend is towards EVs and plug-ins and yet they're still promoting hybrids and now hydrogen-powered cars.
Of course, I could be wrong. Look at how influential Honda's hydrogen car has been...
2nd Gear: Speaking Of The Next Prius
Marky Mark Rechtin reports that the next Prius will be smaller, lighter, cheaper, and get better fuel economy.
Now, what they mean by that is the powetrain will get smaller. The size of the car and the interior package, of course, isn't going to get smaller. That's not what Toyota does.
The goal? 55 MPG. Look for it in early 2015.
3rd Gear: Detroit Electric To Build Cars In… Holland?
Detroit Electric pitched its Lotus-based EV as the fastest pure electric car you can buy. Then we heard it might be dead and then we heard their building was empty.