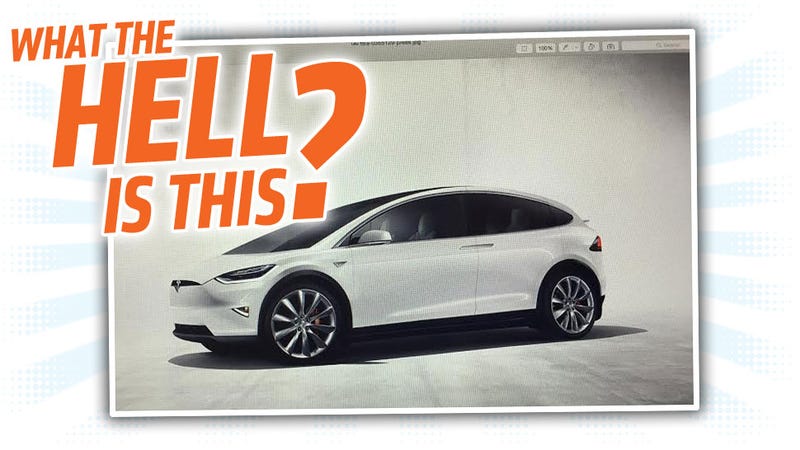 Last night, we got a very interesting email. It's the sort of mail that, as a car journalist, you're always hoping you'll get, if I'm honest. It was from an anonymous person claiming, with evidence, to be a Tesla employee. The person wasn't happy and they sent what they claimed to be was an upcoming Tesla crossover. And that's when things started to get very strange.

We don't actually think it's a Model 3, or a Model Y, or really any sort of Tesla, for reasons we'll get into. Tesla, for what it's worth, is also completely denying that this is one of its images. But it's opening up another can of worms entirely.
Here's what the anonymous message from a Gmail account said:

I work at Tesla. I can't stand the company and the management. Yeah, they're doing good things, but they treat us like shit. I was able to access the attached image on my boss' computer. This was risky as hell! The image quality sucks, but it's better than nothing. Enjoy...
While everyone is very excited about the hopefully-around-$35,000 Model 3, it's important to remember that the new Model 3 platform will actually spawn two cars: a Model 3 sedan, the one we'll see in a few weeks, and a crossover/SUV-type variant similar to the Model X—possibly called the Model Y.
Our tipster said that is what we were supposed to be looking at here, shot off a Mac's screen running the Preview image viewing application. (This shot has also started making the rounds on the Internet as a "leaked image," though one that's been met with much skepticism.)