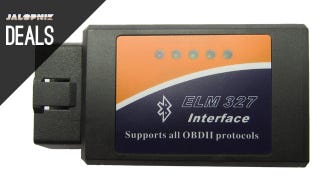 This Bluetooth OBD II scanner is only $7 right now on Amazon. It's compatible with the Torque Android app (and those like it), so you can turn your smartphone into a massively-powerful, car-monitoring computer.
---
This set from Sears includes a floor jack, 3-ton jack stands, and a creeper; everything you need to get started with car maintenance in your own garage. The combo is $50 off today. [Garage Set, $110]
---
MIDWEST CAN COMPANY 5 Gallon Gas Can ($13) | Kmart
---
This 3100 watt Pyle amplifier has never been cheaper on Amazon. [Pyle Amplifier, $85]
---
Get all of the best deals in one place in today's edition of Kinja Deals.