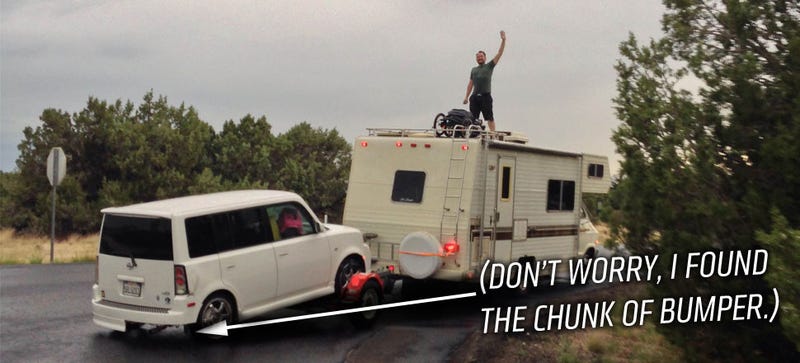 Just to cut some of the suspense from yesterday, let me just come right out and say this: emptying wastewater tanks is as wildly rewarding and fulfilling as you think it is. I'll go so far as to say it's cathartic. Watching all that waste fluid go sluicing down into some little hole, feeling the pulsing of the hose, which looks like a languidly vomiting sandworm — it's hard to beat.
Of course, aside from high points like watching your foamy shower-water and ghostly urine of beverages past flow into an underwater tank, there's long stretches of slow-driving boredom as well. The country out here in Arizona is really quite beautiful, but that doesn't mean that long stretches of 55 MPH road aren't any less boring. It's sort of like this pretty actress I knew in LA whose lovely face couldn't make her inane explanations of chemtrails or her "spirituality" any less tedious.
So, my mind has been wandering to the one other thing I'm seeing constantly on this trip: this 1977 Dodge's dashboard. If you've ever doubted just how far cars have come in the last three decades or so, spend some time behind the wheel of a 70s American car.
First, let's talk materials. Car-makers today go to some almost insane extremes to be sure that all the bits you feel on your dashboard fit certain stringent criteria. Back in '77, everyone who could possibly have given a shit about that was probably not born yet or still in elementary school. The dash here is a big, long slab of metal, painted a shade of beige that's probably called Forgotten Hummus in the color catalogs.