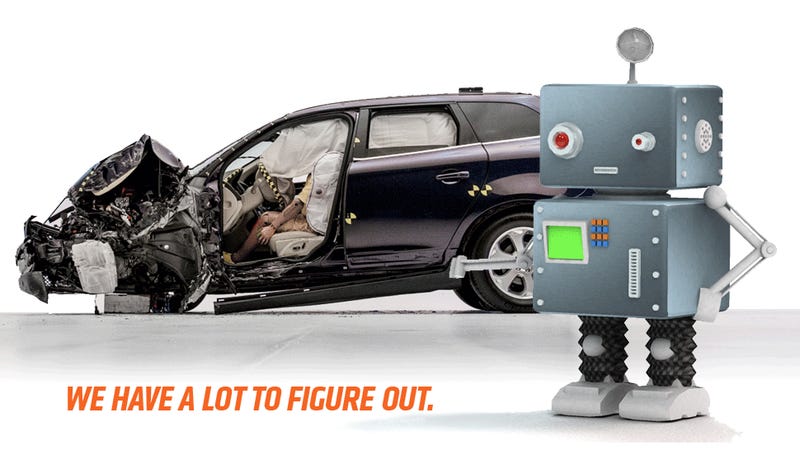 The more you think about autonomous cars, the more questions you raise, causing you to think even more. It's like being trapped in the most useless perpetual motion machine. Occasionally, though, interesting questions arise, like this one: what will crash testing an autonomous car entail?
At first thought, you may be thinking Jason, you idiot. They're still cars. You'll still have to see how their crumple zones absorb impact energy, how their airbags deploy, how their restraint systems keep their passengers from harm, just like we do with cars today.
This is all true, of course, but with autonomous cars, it's only a half-solution. You're just testing the body, but autonomous cars mean you have to crash-test the mind as well.
Unlike conventional meat-driven cars, when it comes to crash testing autonomous vehicles, I think current crash testing protocols will be very inadequate, because they just run a car on a straight track into a big-ass wall or they ram heavy carts into the cars.
To really test an autonomous car, new crash tests will need to be devised that place the cars in situations where the accident could be avoided altogether, or, if the accident is unavoidable, decisions are made so the outcome will provide the least amount of damage.

And, because autonomous cars are really robots with the capacity to end a human life, this all now becomes a colossal can of very active and ethically ambiguous worms. If we expect NHTSA to come up with a standard set of crash avoidance and mitigation tests for autonomous cars – and we'd be crazy to think we shouldn't – we need to realize that defining a set of tests also means that we need to define a set of ethical rules that we expect these cars to adhere to.