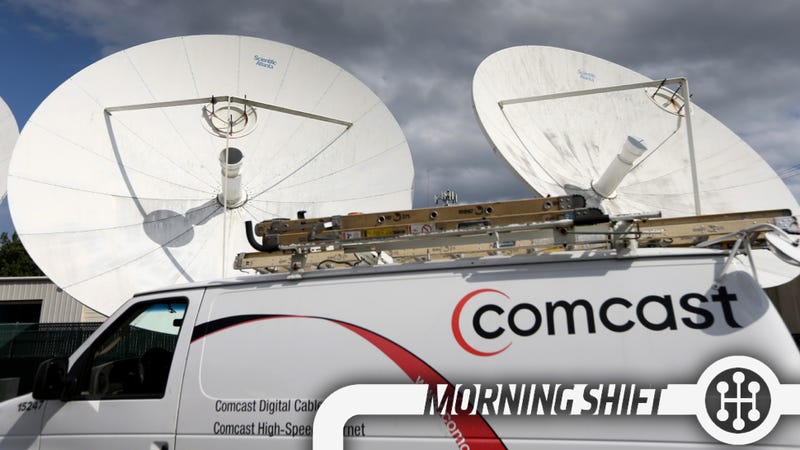 This is The Morning Shift, our one-stop daily roundup of all the auto news that's actually important — all in one place at 9:30 AM. Or, you could spend all day waiting for other sites to parse it out to you one story at a time. Isn't your time more important?
1st Gear: As If You Didn't Hate Comcast Enough Already
Automakers haven't yet used the slice of broadband reserved for car-to-car communications yet, and a bunch of tech companies want a slice of that sweet sweet broadband. Now it's coming to a head.
The players are the automakers on one side and the tech companies on the other. To be fair, the tech companies also include Microsoft and Google, but everyone loves hating on Comcast so I couldn't resist.
What's at stake? The auto companies say they need the broadband for car-to-car communications that they say will prevent crashes by having cars talk to one another. The tech companies argue that that hasn't happened yet and that empty space could be used for all that other data people are using.
According to Bloomberg, both sides spent around $200 million last year lobbying for it.
In fairness to to the tech companies, it's possible that they could share that space.
2nd Gear: Tesla Hits New High Thanks To Curious Rumor
It's not a rumor that Tesla's Elon Musk met with Adrian Perica, Apple's head of mergers and acquisitions. That really happened.
However, it happened nearly a year ago and so far nothing has come of it. While it's possible that we'll find out in Tesla's earnings report later today that Apple has purchased Tesla, I think that's the lowest probable outcome as I told Bloomberg's Betty Liu yesterday.
The more reasonable expectation is that Apple is looking for someone to run its iCar iOS system and Tesla makes sense. Could that mean Apple buying a part of Tesla? Absolutely. Buying all of it? I don't think Elon's going to sell.
Another possibility is that — and i have no proof of this — someone close to Tesla leaked the information before their earnings to push their stock price to $203.70. Assuming they have good news to report, it would make the price go even higher. I'm not saying that's what happened, but that's what I would do.
Analysts who spoke with Automotive News credit the rumors with the price increase.
3rd Gear: Extremely Profitable Company Surprised That Workers Want More Money
America isn't the only country with unions. Japan's Tokyo Motor Company is in talks with its unions and they've found union demands to be "surprisingly high" according to Bloomberg's newest Tokyo coverage team.
The carmaker will wait until the negotiations are finished before saying whether it will agree to the requests, Senior Managing Officer Naoki Miyazaki told reporters Wednesday in Toyota City, Japan. He said improvement in Japan's economy and the need to boost personal spending will be considered in the talks.

Toyota this month reported profit quintupled last quarter and raised its forecast for the year ending March 31 to an unprecedented 1.9 trillion yen, as economic policies under Prime Minister Shinzo Abe weaken the yen and boost earnings from cars exported out of Japan. Abe has urged companies to raise wages faster than gains in the cost of living, as rising consumer prices risk undermining his public support.
Exactly, so why are you surprised?
4th Gear: The End Of The Peugeot Legacy
As we reported yesterday, France's Peugeot family has turned over its company to China's Dongfeng Motor Group.