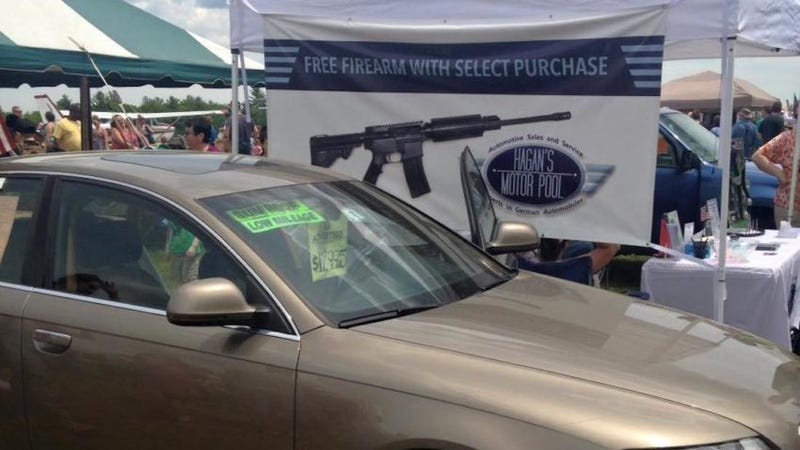 The whole "buy a car and get a free gun" schtick is nothing new. Dealers have been doing this for years, but one dealer in New Hampshire is facing criticism for giving away a rifle similar to the one used in the tragic killing of 49 people in Orlando last weekend.
According to Fox25, owner Mike Hagan of Hagan's Motor Pool in Rochester, New Hampshire is offering a free AR-15 rifle or a handgun with the purchase of selected pre-owned vehicles.
Hagan, who is a military veteran and served in Afghanistan, said the possibility of the rifle being used on civilians doesn't weigh on his conscience.
"I could worry about the same thing with a car being used to hurt other people in the end that kind of heinous of crime is in the heart."
The AR-15 was originally and incorrectly reported as the weapon used in the Orlando shooting; the weapon was actually a Sig Sauer MCX rifle, which has a similar purpose. And the timing of Hagan's promotion has some upset—although Hagan told the TV station the response has been "overwhelmingly positive."
Of course the car buyer doesn't get a firearm at the time of purchase, but rather a voucher to go to a local gun store that they can cash in for either the AR-15 or 9mm handgun. Anyone that wants to use the voucher must pass a background check.
I'm not here to get into a debate whether or not Americans should be owning these kinds of weapons. However, as someone who helps people buy cars for a living, I can say that dealerships that give things away for free are more often than not overcharging for their cars.