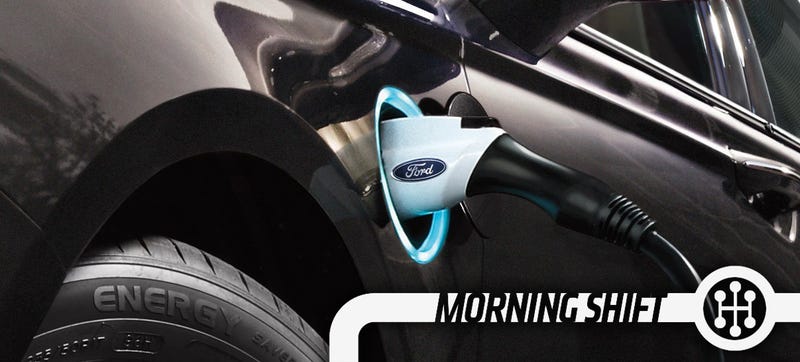 Good Morning! Welcome to The Morning Shift, your roundup of the auto news you crave, all in one place every weekday morning. Here are the important stories you need to know.
With the holidays coming up, this will be the last Morning Shift until next week, so indulge while you can.
1st Gear: Ford Ups Patent Filings, Aims To Rebrand
Few established automakers are as progressive when it comes to autonomous cars as Ford. Under CEO Mark Fields, it's aimed to develop new technologies and new mobility strategies. Here's The Detroit Free Press to elaborate, saying Ford's Silicon Valley center has contributed to a "100 percent increase in invention disclosure submissions in North America over the last three years while Ford employees in Asia Pacific increased submissions more than 140 percent and Europe saw an increase of more than 50 percent."
Ford received a record number of new patents this year in what might be viewed as validation of the automaker's efforts to rebadge itself as a mobility and tech company.

The carmaker is focused on vehicle connectivity, autonomous driving and preparing for a world where different types of vehicles share the road while consumers share individual vehicles as a way to address traffic congestion and road safety.

Ford underlined its commitment to these areas when it opened a research and innovation center in Silicon Valley in January, which quickly distinguished itself as having a substantially higher number of patents than at other Ford facilities.
And of course, there's the announcement of the tie-up with Google, which we will learn more about next month.
2nd Gear: Carmax Hits A Road Bump
Carmax's profits and sales are down slightly despite strong vehicle sales this year, probably because it's so cheap to get a new car or because Doug's Range Rover repairs finally started eating into revenue. Via Yahoo Autos:
Last week, Carmax reported a drop in quarterly profits (1.4% to $128 million) and a surprising decline in same-store sales (down 0.8%) despite a banner year for auto retailing, with new-vehicle sales near an estimated 17.8 million units.

Tom Folliard, the CEO of Carmax, blamed a lack of SUVs and heavy truck purchases in Carmax's inventory at a time when low gas prices have lead to a severe change in what customers want in their next used car.

"There was a chance that we could have paid more." he said of the trucks and SUVs. "But we're always trying to deliver a great value to the consumer as well. There are always times when certain [vehicles] are at the auction that we think are just too expensive."
The whole "buy a nice but overpriced used car with a good warranty" thing may have worked before, but with credit so cheap now, many buyers are opting to go new instead.

3rd Gear: UAW Vs. VW
Now Volkswagen has union problems too. Via Reuters:
The United Auto Workers union has filed charges against Volkswagen AG, claiming the company is refusing to enter into collective bargaining for a portion of workers at its Chattanooga, Tennessee, factory, the union said on Tuesday.

The charges were filed with the National Labor Relations Board on Monday.

On Dec. 4, more than 70 percent of the 161 skilled trades workers at the VW plant voted to join the UAW. There are about 1,450 auto assembly workers at the plant.

The outcome was seen as important for the union because it was the first time workers at an auto assembly plant in the southern U.S. owned by a foreign automaker voted to join the UAW.
4th Gear: Crown Vic Recall
But before Ford can become a big tech giant, it needs to get these headlights fixed first. Once more from Reuters:
Ford Motor Co said on Tuesday it will recall 313,000 older cars for headlight failures linked to 11 crashes, as well as 4,700 vans, pick-ups and mid-sized trucks for assorted issues.

The automaker said it is recalling 2003-2005 Ford Crown Victoria and Mercury Grand Marquis vehicles to replace the lighting control module. The module's solder joints could crack and interrupt power to the headlights – increasing the risk of crash at night.
5th Gear: More Automakers May Partner With Tech Giants
The Ford-Google tie-up is only the beginning, for Google and other companies. Here's Bloomberg:
Google's self-driving car technology is attracting top U.S. automakers, as Ford, Fiat Chrysler and General Motors talk with the company while laying the groundwork for a future with autonomous cars.

[...] That follows comments in October from Mark Reuss, product development chief for General Motors Co., that the automaker was "very interested" in exploring ways its manufacturing skills could complement Google's system. Sergio Marchionne, chief executive officer of Fiat Chrysler Automobiles NV, has said repeatedly the past few months that his company wants to work on autonomous driving with technology companies such as Apple Inc. and Google.

"We are entering the era of the technology and software-defined vehicle," said Thilo Koslowski, a vice president in the automotive practice at Gartner Inc. "You're just seeing the auto industry recognize the importance of that."
Reverse: So Much For That