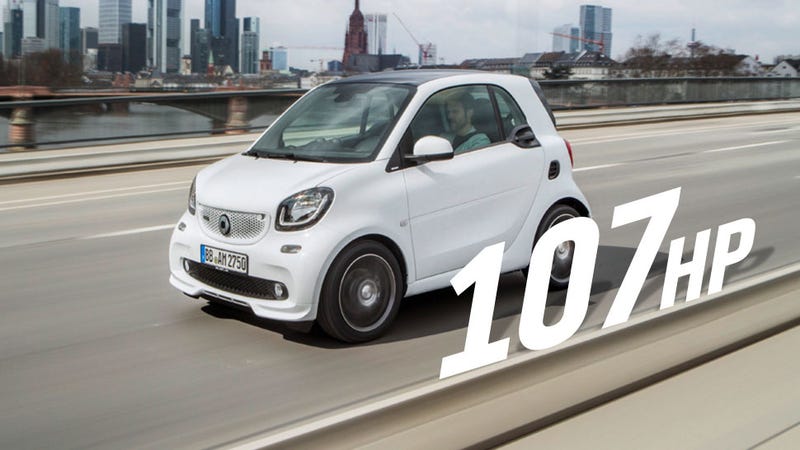 There's something I genuinely love about the Brabus-ified Smart ForTwos. The very idea of a tuning company squeezing the most performance they can out of a tiny city car encapsulates the grand ridiculousness that is exactly what I love about cars. This latest microbeast looks pretty great, too, and is a solid 1/11th as potent as a Bugatti Veyron.
Sure, 107 HP (at 4750 RPM) isn't much by modern standards, but in a car the size of the Smart it's not bad at all, and it's more impressive when you realize Brabus is getting that out of an 898cc turbo-three that normally makes 89 HP.
That's, what, 18 HP more than stock, about 20%, and they're getting 125 lb-ft (89.2 Nrp) of torque, 25 more (and 25%) than the usual 100. That's impressive, especially from a sub one-liter engine. For comparison, it's 17 more horses than a Porsche 356 made in 1965. It's not huge, but in this car, it's enough to have some fun.
Weirdly, the Brabus version isn't offered with a manual transmission, only the six-speed dual clutch auto. It's a way better auto than Smart used to be stuck with, and Brabus has tweaked it to shift even faster, but this car would just simply be more fun with a manual.