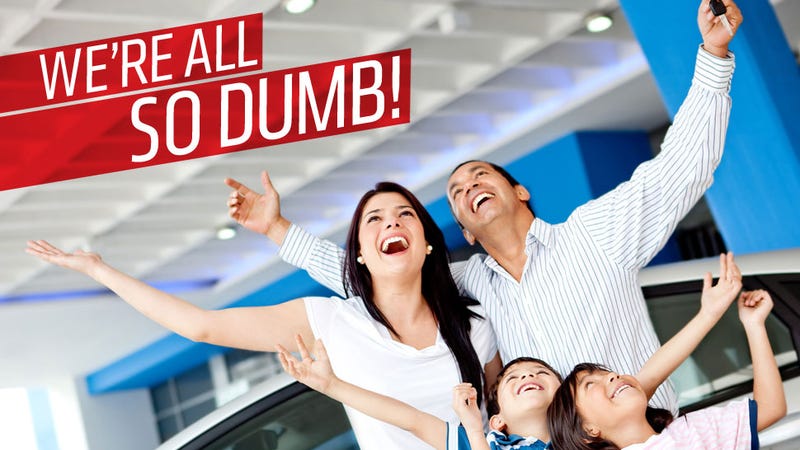 Diesels are bad for the environment. The Prius is good for the environment. Bigger is safer. American cars are junk. As someone who constantly gives advice to people who want insight before they buy a new vehicle it's amazing how stunningly wrong people are about the state of modern cars. Correct your assumptions or risk getting screwed.
Some of these wrongheaded beliefs are encouraged by car companies and marketing experts, while others are earnest biases formed by years of experience that are nevertheless out-of-date.
If you're an enthusiast you know all this and can just refer friends to this article. If you're going to buy a new car I've decided to address the most common misapprehensions below.
Japanese/German Cars Are Good, American/Korean Cars Are Bad
Would that the world were that simple.
Here's a fact that will blow your mind: The worst new car you can buy in the U.S. today is a Japanese car. While Mitsubishi was once a great car company, the 2012 Mitsubishi Galant (still for sale at some dealerships) is absolute crap. The new Mitsubishi Lancer isn't that much better. And the Mirage? Don't get me started.
The same goes for storied nameplates. Cars like the new Civic and Corolla aren't bad, exactly, but there's a similar or better American or Korean alternative in nearly every class of car you can imagine. Want an Acura? You may be surprised that Buick actually makes the car you probably you want.
Yes, a few mediocre American cars like the Chrysler 200 remain, but post-bankruptcy the American automakers have all vastly improved and are now often exceeding their competition.
While it was true not long ago that Korean cars were mostly junk, both Hyundai and Kia have invested huge sums of money (taking advantage of a purposefully spiked currency) to build cars that are great performers as well as stellar values.
German cars, once the best in luxury, now have real competition as well. The Cadillac ATS is just a bit as good as the BMW 3-Series and we'd rather have a new 2014 Cadillac CTS than an Audi A6. That doesn't mean German cars aren't amazing, it just means you'd be foolish not to cross-shop them.