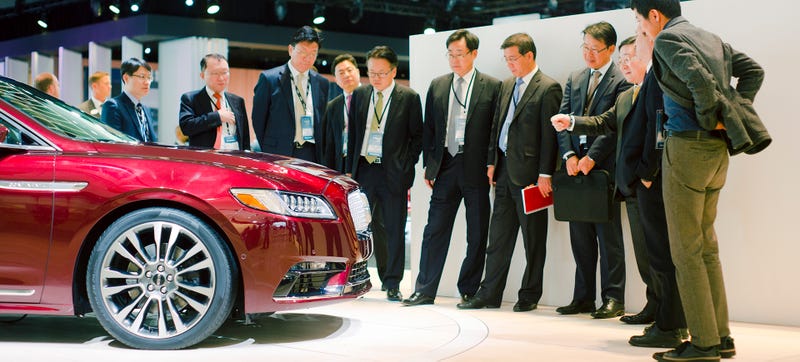 The best part of every auto show is the corporate espionage, and no show in America has more of it than Detroit.
The point of an auto show isn't merely to clump a bunch of car writers together to stuff them full of shrimp and promise that yet another concept car will show design details to be seen in future models blah blah.
The other point of an auto show is to gather all of the carmakers under the same roof, with all of their newest models sitting side by side. So the Mercedes pavilion sits right next to the Audi pavilion, which stands in very stark contrast to Lincoln right next to it. A quick walk shows any car journalist the different attitudes of each company.
Mercedes trucked out nothing but production cars, conservative and profitable as ever. Audi had the same old production cars they've been bringing to auto shows for years, with a few eco-crossover "concepts" to show that they're at least trying to get past the diesel mess. Lincoln, meanwhile, stuck out their new Continental and virtually nothing else. That's what the brand has going for it right now.

But these contrasts aren't reserved for car journalists to notice. The car companies themselves spend much of the auto show peeking at what their neighbors are up to.
"This is our chance to check out everyone else's cars," one unnamed auto executive told me at a competitor's stand, "without getting hassled."
You see tons of executives high up and low down striding across the show floor. Take a careful look at the name tags at flashy new car unveils and you'll see that much of the big crowds are made up of junior German car execs, mostly making snide comments about how hard their rivals are trying to look eco friendly or whatever. And after these presentations die down, you'll find those same bosses sitting in their competitor's cars, often making snide comments about fit and finish. There are lots of lines about how panel gaps at Company X would be unacceptable at their Company Y.
The most famous instance of this is when the now-ousted boss of Volkswagen berated his staffers about the quality of a rival Hyundai at the Frankfurt Auto Show a few years back.