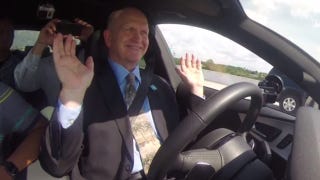 Audi wanted to give Florida Governor Rick Scott a treat. After all, he's the man that signed the state's autonomous vehicle testing legislation into law, so Audi closed down the Selmon Expressway to give the Gov a ride. And then it broke. Twice.
The run was outside of Tampa on of 10 roads in the U.S. designated as an autonomous driving and connected car research area, partially made possible by HB 1207, which Scott signed into law in 2012.
The entire demo was heavily choreographed, with the road shut down, two other Audis acting as "traffic", and, while the system on the A7 can handle speeds up to 40 mph, in this setting, engineers limited it to 25 mph.
According to the Tampa Bay Tribune, after getting inside for the first test, Scott's run was cut short because one of the 22 sensors on board wasn't communicating with the computer controlling it all. Then it happened again. Audi spokesman Bradley Stertz confirmed to Jalopnik that a sensor had failed twice, requiring the A7 to stop and have the sensor rebooted.