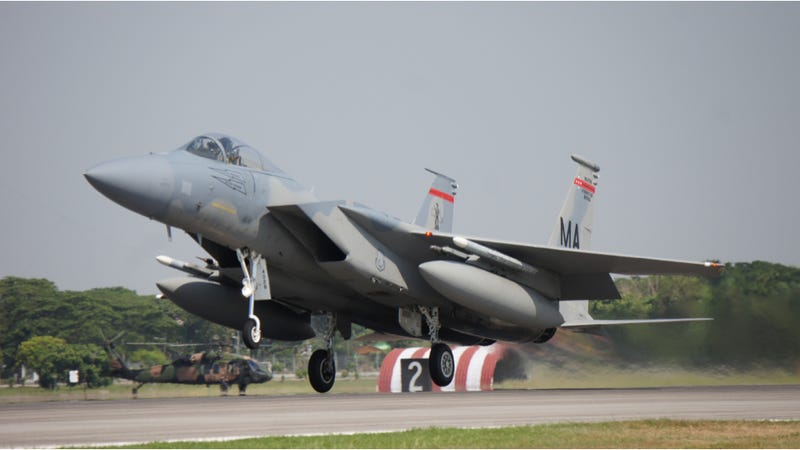 An F-15C fighter jet flying near the Washington, DC-area has reportedly crashed near the town of Deerfield, Virginia, according to the local News-Leader. UPDATE
No reports have yet indicated the status of the pilot, however a call from an emergency dispatcher said that they "haven't located anybody":
"I'm on location, with smoke, and we do have debris," said a breathless responder on emergency radio frequencies at 10:04 a.m. "I got debris everywhere... I haven't located anybody."

Virginia State Police confirmed that they were notified at 9:06 a.m. of a plane crash. The crash site appears to be near the side of the mountain.
Numerous photos from witness on Twitter indicate a fire where the jet impacted the ground:


The area of the crash is rural; reception is very limited. More information will take longer for police to confirm. pic.twitter.com/GYpKPlAgdr

— Alana Austin (@alana_austin) August 27, 2014
They found us they fucking found us, I can't even farm with out random things exploding. pic.twitter.com/q07t6TYvWB

— Garry from MVF (@ThatGuy_GBeck) August 27, 2014
The F-15C, which seats one, took off from Massachusetts, according to a reporter from the local NBC affiliate. The Massachusetts Air National Guard operates F-15s out of Barnes Air National Guard Base:
BREAKING: @NBCNews: It's unknown why the plane, en route from Massachusetts to New Orleans, went down or if anyone was injured or killed.

— Henry Graff (@HenryGraff) August 27, 2014
F-15s, which use the ACES II ejection seat, have crashed in 12 incidents in the past ten years.
UPDATE 11:45 AM: The pilot, a member of the 104th Fighter Wing of the Massachusetts Air National Guard, was flying a cross-country mission over the Shenandoah Valley in Virginia, according to a spokesperson from the Fighter Wing. The pilot reported an in-flight emergency before radio contact was lost at 9:05 this morning.
The plane was en route to receive a systems upgrade, and wasn't carrying any weapons.
The status of the pilot is still unconfirmed.