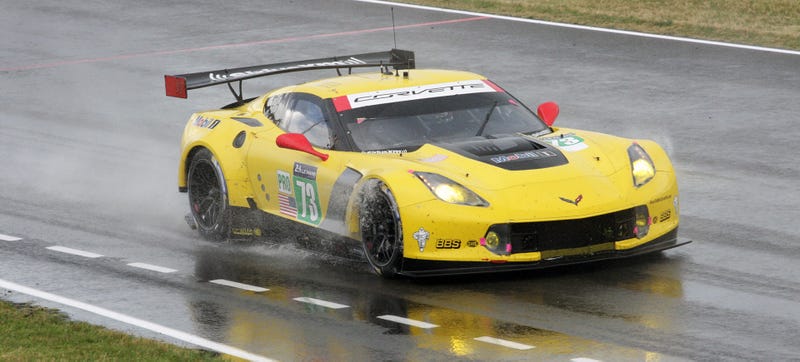 As a European, I must salute you. The two Corvette C7.Rs were simply amazing at Le Mans. And not just because of those burnouts.
The 24 Hours of Le Mans is the greatest race in the world, and while it certainly works without Americans, having a few stars and stripes around always makes it more exciting. Just think of all those GT40s back in the day!
The C7.R is no GT40, but Chevy's newest racer built by Pratt & Miller for the GTE Pro and USCC GT classes. It's no GT40 because it's not a prototype and also because they couldn't beat Ferrari at Le Mans this time: The #73 car finished second behind a 458 Italia while #74 got the fourth place thanks to a rapid 911 RSR.
Still, great results from a pair of brand new cars fighting against the best of Europe, especially with Cadillac's paint from the early 2000s quietly fading away in the background as a constant reminder of previous GM failures at Le Mans.
In The Pits
I already knew how much freedom a pussy magnet yellow Corvette Stingray can spray all over the place at the time I entered Corvette Racing's garage, but the road car is nothing compared to what hits the circuits all over the planet. The C7.R is so wide and so low that I'm pretty sure this is what GM had in mind in the first place.