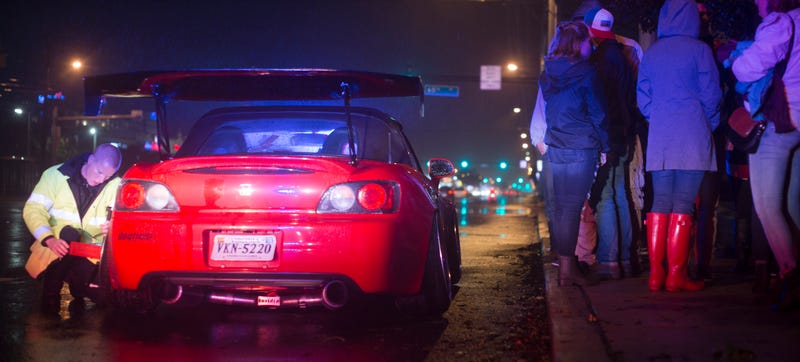 The question wasn't if his car would get impounded. We knew was going to happen the moment we saw the police cruiser follow his Honda S2000, slammed, on chrome, into a gas station off Ocean City's main drag. The question was how.
I don't mean that it was going to be hard for the cop to find a reason to impound his car. The guy's Honda (his name is Junior, you can become one of his 14,000 followers on Instagram here) was what's called "static." Most of the cars that were as low as Junior's were on air suspension. That meant that they could sit their frame on the floor while parked and raise their ride height for driving around.
Air suspension means you can clear bumps, and air suspension means a tow truck driver can get a jack under your car to tow it away. Junior's car did not have air suspension. It could not lift up. For an ordinary single-axle tow truck, Junior's car was too low to tow.

Wisely, the cops called a flatbed.
Even still, Junior's buddies had to borrow tools to get the entire front clip off of the long-nosed S2000 just so it could even clear the gentle flatbed ramp. The whole ordeal must have taken half an hour.

And this is not because anybody was out of practice. Every year in the last week of September bleeding into October, cars like Junior's swarm Ocean City, Maryland for what's called H2Oi.