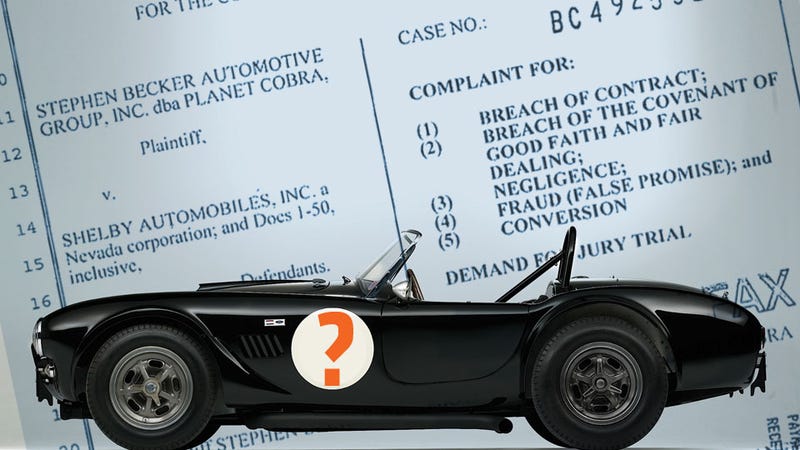 Stephen Becker, owner of Planet Cobra, an authorized reseller of those "new" Shelby Cobras old rich accountants love is alleging Shelby American engaged in numerous unscrupulous and underhanded practices with its dealer network in a lawsuit obtained by Jalopnik. The lawsuit also reveals just how much dealers pay for the Cobras they sell to customers seeking a piece of Shelby history.
The Cobras in question are official reproductions of the original, AC-bodied Cobras from the '60s, one of the absolute great sports cars of all time. Taut, curvy British styling with gutsy, reliable Ford power, these things have been nocturnal-emission fodder for gearheads for half a century. They are absolutely desirable, iconic cars. That said, one thing they are certainly not is complex, in any modern manufacturing sense. Yes, they're mostly made by hand, but that's got more to do with their very low-volume production than some old-world craftsmanship ethos. They're built, essentially, like kit cars. That's not a condemnation of quality, just the nature of the vehicle.
The process for building a Cobra Component Vehicle ("Component Vehicle" is basically a fancy name for "kit car") is as follows: the bodyshell is manufactured out of aluminum or fiberglass by South African contractor Superformance. Even though "Shelby African" has an interesting ring to it, the cars are shipped back to Shelby's Nevada factory for final assembly.
For the record, the dealer price for a Shelby Cobra is $41,200. For the fiberglass 50th Anniversary edition, the price is $65,005, at least for the single delivered one; the undelivered (though allegedly paid-for) fiberglass Cobras are $61,995 and $63,945. The 50th Anniversary Cobra lists for $69,995, giving about a 12% margin, which is pretty standard for the industry. The aluminum 50th Anniversary Cobra costs the dealer $119,995 and ordinary chumps like us $134,995, giving roughly the same margins. It is nice of Shelby to knock off that $5 from all those prices, though.
That's the general process; the primary issue alleged in the complaint is that Shelby American doesn't seem to actually want to build and deliver cars to at least this one particular dealer. For example, in the case of the five Shelby 50th Anniversary Cobras ordered by Becker, only one has been delivered, even though all cars have been paid in full. The delivery of the single car was late as well, as the desire was to have all the anniversary cars delivered before the end of the anniversary year, 2011. That didn't happen, according to the documents.
Additionally, Becker claims that Shelby America did not provide him with a contractually-agreed display vehicle, or any of the agreed support for advertising.
The biggest issue seems to be in the actual delivery of completed, paid-for vehicles, however. From 2007-2010, Becker's firm says they ordered and sold 49 Cobras; after 2010 things seemed to change. Of the 12 vehicles Becker ordered since then, the suit alleges only four have been delivered. Becker also claims that new, higher prices were demanded in breach of the contract, and his belief is that the other vehicles aren't being produced in the hopes he'll cancel his order and Shelby will be able to sell the cars at the newer, higher prices.
The complaint also alleges that Shelby, again in violation of contract, began to demand full payment for vehicles while they were still in the South African assembly facility, instead of the usual $15,000 deposit.
If these allegations are true, it would point to, at best, a very adversarial relationship between Shelby and one of its dealers, and at worst a deliberate effort to put dealers out of business. Though it certainly doesn't dictate this current situation, Shelby's past is a bit checkered, including charges of use of prison labor and craploads of Bondo.