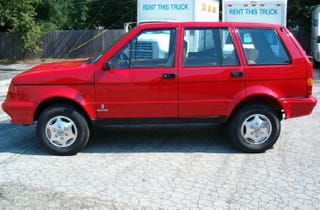 La Forza del Destino is an opera by Giuseppe Verdi that features love, death, betrayal. . . and gypsies! Less dramatic is today's Nice Price or Crack Pipe Laforza, but will its price have you wishing the fat lady would sing?
You know why even minor highway accidents can back up traffic for miles? It's because everybody whizzing past has to slow down and gawk at the events unfolding on the shoulder. It could be a simple bumper thumper but they - and by they I mean you - want to see if maybe, just maybe there'll be a loose head rolling around or something. It's just human nature.
That inability to look away from something horrific was the primary reason for foisting yesterday's freakishly fauxrrari'd Mitsubishi 3000GT on you all. Sadly for its proud owner, there was just too much wrong with that beast and it rightfully went down in a very real 98% Crack Pipe loss.