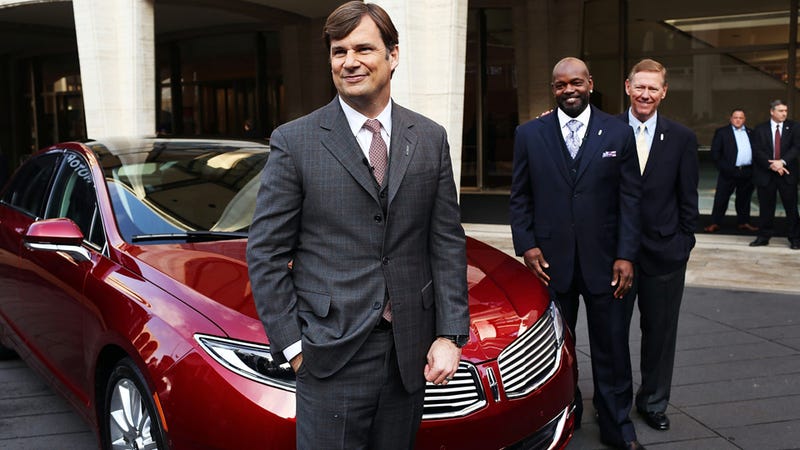 Ford's been on an amazing streak building great cars that manage to sell to the masses. It's been a single brand turnaround that deserves all the praise we've been giving it. Ford's "premium" Lincoln brand is entirely made up of rebadged Fords that are slightly nicer and unreasonably more expensive. It's been a predictable failure
Today, the company relaunched the brand as the Lincoln Motor Company in an effort to get people to buy their cars. They also hired Jimmy Fallon to come up with a Super Bowl advertisement for them. All of this is being done to get younger people to think about the brand before dramatically changing their products.
That's backwards and it won't work. I'm sorry, your Super Bowl ad could be Sofia Vergara, nude, reading Neruda poems in the original Spanish on the hood of an MKZ and I'm still not thinking about the car.
Pity Ford execs Jim Farley and Mark Fields. They know they need a luxury brand and they know they'll never have the name ID they've got with Lincoln, so they've convinced Ford CEO Alan Mulally to let them "fix" Lincoln.
But this fix is on a budget and, while I'm sure there are some desperate skunkworks efforts to build a new fleet of cars that are reasonably different from the Ford platform they're based on, it isn't happening fast enough.
Instead, the current Lincoln stable is an expensive Ford Taurus, an expensive Ford Edge, an expensive Ford Flex, and a flagship that's just an expensive Ford Expedition with a lot of chrome. They didn't show any of these cars at the LA Auto Show this last week because they know they're crap.
What they did show is a lot of the new Lincoln MKZ, a handsome take on the Ford Fusion we love.