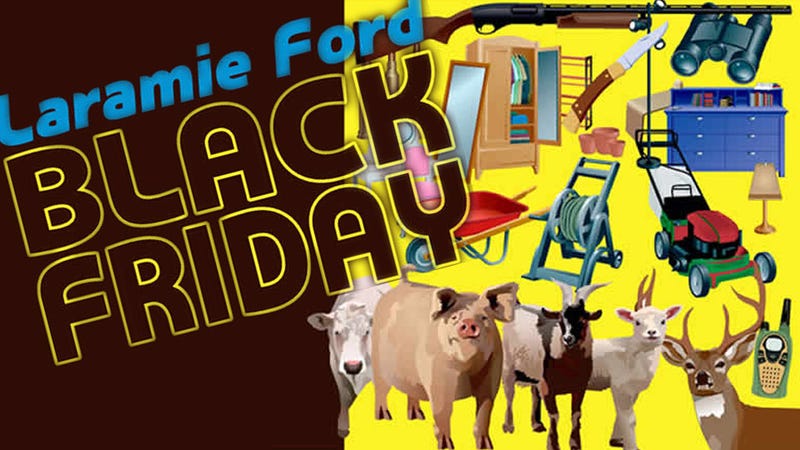 Normally, I treat Black Friday the same way I treat Tu Bishvat— I've heard of it, know generally what it's about, but leave the actual observance to the harder core Jews or consumers. This year, however, I saw something that makes me much, much more interested in the "holiday": this ad, from a Ford dealer in Laramie, Wyoming.
Oh, and I should probably clarify— the "holiday" in question is Black Friday, not Tu Bishvat. I don't think any Laramie Ford dealers offer any Tu Bishvat specials, but I'd love to be proven wrong about that.
What makes this dealership's promotion so wonderful is the fundamental premise where they will take as partial trade in value for a new car pretty much anything. The poster really drives home the anything part of the equation, listing such varied items as guns, knives, computers, hot air balloons, lawn mower, pigs, cows, llamas, hell any breathing animal, and my favorite, carpet scraps.
I spoke with Jeff Barker at the dealership, and asked him what the hell they're planning on doing with all the crap they'll get. For the valuables— coins, jewelry, gold, etc.— they have pretty normal resources to turn those into money. For the livestock, they have an arrangement with a local butcher. So, if you bring in a couple of healthy hogs for trade in on your new Focus ST, the pigs will be butchered, and the meat donated to charity. A great deal for everyone except the pigs.