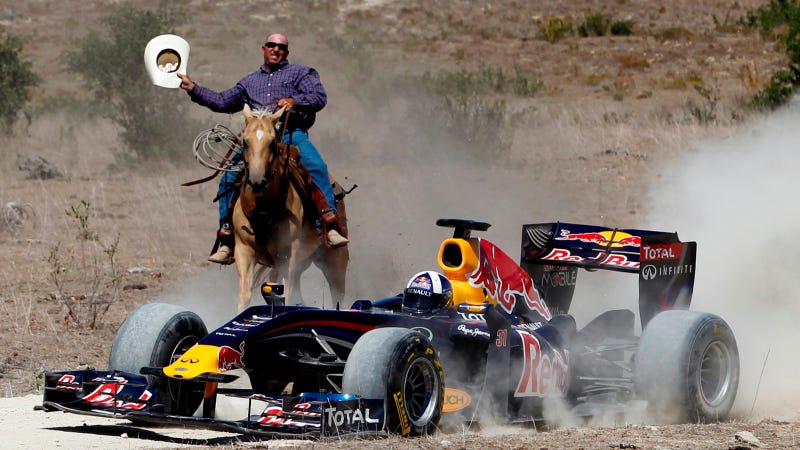 After two-and-a-half years of hype, promotions, construction, legal fights, planning, protests from residents and grandstanding by Bernie Ecclestone, Formula One will at last make its triumphant return to the United States in just one week. For real this time. Seriously! We promise.
If you're reading this, you may be going to U.S. Grand Prix itself. Or you may be headed here to partake in some of the inevitable F1-related partying. If so, you need to know how to get around and have a good time in Austin. Luckily for you, Jalopnik is here to help.
America hasn't had an F1 race since 2007 when it was last held at the Indianapolis Motor Speedway. But come next week the U.S. Grand Prix will be held at the brand-new Circuit of the Americas track, just southeast of Austin, Texas in the bustling metropolis known as Elroy.
People will be coming from all over the world to see the race; you may be one of them. City officials have said they're expecting 300,000 visitors to Austin between Nov. 16 and 18, and circuit officials are expecting 120,000 spectators. As they told me this week, as much as 70 percent of ticket-holders are not from Texas, and between 15 and 20 percent of those people are from foreign countries.
Needless to say, Austin will be packed, and we're a city that has trouble with traffic on a good day. Getting to the race will be a challenge, but I'll try to outline the best ways to get there.
In writing this guide I've also included some things to do while you're in Austin as well as a general explanation of the city's vibe and how things work around here. It's written in a handy FAQ format so it doesn't look like a drunken, rambling, angry screed. Which it still might. Most of my stuff does. Sorry for that.
But one man alone can never write a truly comprehensive guide, so I need your help. Current and former Austin residents, as well as previous visitors to the city — what are your favorite things to do here? What advice do you have for newcomers?
Are any of you going to the race? What are you expecting? Let us know in the comments below.
What is Formula One?
It's a form of auto racing where handsome rich dudes from foreign countries drive around a track in goofy-looking cars that are really, really loud. But you probably knew that.
What is Austin's deal and why should I care?
Austin is the capital city of Texas, the 13th largest city in America and a growing and vibrant place with a population of more than 800,000 people. We're most famous for our live music, freewheeling and liberal atmosphere, laid-back approach to everything, burgeoning tech industry, and the University of Texas, which reportedly still has a top-tier football team, although I have seen no evidence of this in recent years. The city is outdoorsy, it's dog-friendly, and it loves to party.
Whatever stereotypes you have about Texas need to be thrown out the window, because Austin is pretty different. This is a city that prides itself on weirdness, a city where a homeless cross-dresser is one of our most important cultural icons, and a city where every weekend includes a marathon, a cycle race, a protest, a counter-protest to that protest, an outdoor music festival, or all five at once.
It's also the coolest city in the state by a long shot. Don't let your jaded New York hipster friends or those jokers at Forbes tell you otherwise. (Seriously, Houston? You ever been to Houston?)
For most of Austin's history there wasn't much here besides the State Capitol and UT, but that began to change in the late 1990s with the tech boom. Austin is now one of the fastest growing cities in the U.S., and in many ways our infrastructure has struggled to keep up with this growth. In recent years, traffic has been named among the worst in the country. This will be important to keep in mind as you keep reading.
You should care because the F1 race is here. And because I live here. Why are you being so mean? I thought we were homies.
Where is the track?
Good question. It's located about 14 miles southeast of downtown, and technically it's not in Austin but in the unincorporated Travis County town of Elroy. Our city council voted to annex it into Austin this week.
The Circuit of the Americas itself is a brand new facility with a state of the art track that looks to be among the best in the world. Click here to see some of our previous coverage of that.
How do I get there?
Okay, now we get to the fun part. And by fun, I mean "This is most likely going to be a traffic clusterfuck."
There are no traffic problems in Austin that couldn't be solved with three or four other major highways in addition to what we have. That doesn't help us for the race. The only way in and out of the circuit is through FM 812 or Elroy Road off the State Highway 130 toll road. Neither are able to accomodate heavy traffic.
Let me be as clear as I can: do not even think of driving there yourself. About 120,000 spectators are expected on Sunday, but there are only 17,000 parking spaces on site, and those are mostly reserved for VIPs and premium ticket-holders, media, and other special fancy people.
Undoubtedly, your best bet will be to take one of the two park-and-ride shuttles that are running to the track. There are two — one on 15th and Trinity streets downtown near the State Capitol, and one at the Travis County Expo Center on the far east side. Visitors to the city are asked to take the former; Austin residents are asked to take the latter. The shuttles are free and begin running at 7 a.m. on Friday, Saturday and Sunday and run for about three hours after the final events every day. Check out COTA's site for more information.
Regardless of all of this, traffic will still likely be backed up badly on FM 812, so you can expect to wait a long time on the shuttles. There's just not enough roads to get this done in an expedient manner.
You could also take a helicopter there, but the prices of that are far beyond most of us mere mortals. If the helicopter flights aren't all reserved, expect to pay $545 per person each day for a round trip flight.
If you're one of those active people who gets off their ass from time to time and does stuff, there's another option as well: biking to the track. Group rides leave at 8:30 a.m. each day from downtown to another shuttle stop near the track, and the facility itself will have showers so you don't have to go the entire day smelling disgusting.
Where can I stay if I want to go to the race?
If you don't have a hotel locked up yet, you're probably screwed. At the end of October, my newspaper the Austin American-Statesman reported that "80 to 85 percent of the region's hotel rooms have already been reserved." This includes hotels at surrounding cities like Round Rock, San Marcos and even Waco, I'm told. Those that remain available — if any still are this close to race day — will be insanely expensive. But if you're a European super-billionaire, you probably have things covered.
If you really don't have a hotel, find a friendly Craigslister whose couch you can crash on. Better yet, I'll rent you my house in East Austin for $5,000 a night. I'm so not joking when I say this. Make it seven grand a night and I'll even, like, vacuum it and shit for you.
What else is going on that weekend?
Lots of stuff. This is F1, so expect to see tons of exclusive, invite-only parties that we will inevitably get kicked out of. If you don't know about these parties, you probably aren't invited.