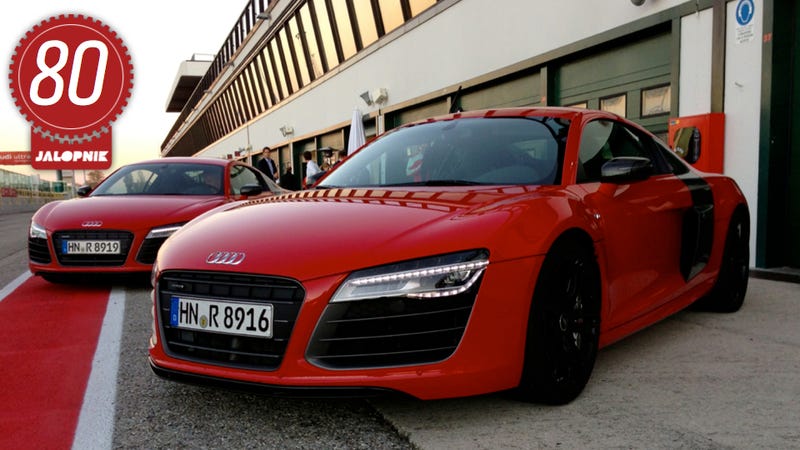 For decades, Audi was synonymous with rally excellence. In the 2000s, Audi turned its focus to sports car racing, where it tortured the entire grid at Le Mans, abusing the field 11 times in 13 years.
In 2006, Audi brought some of that spirit to the road with the R8, the first mid-engined super car to come out of Ingolstadt. It had quattro all-wheel drive and, ahem, unique looks, but it was a blast to drive. The 2014 Audi R8 has undergone a thorough reengineering designed to make it as punishing to the super car market as the R18 is to its motorsports competitors.
(Full Disclosure: Audi wanted me to drive the 2014 R8 range so bad that they took me away from Hurricane Sandy and on a European journey that included track time at the Misano Circuit, a drive from Italy to Germany, and a stay in an ultra-modern hotel that was so confusing and caused me such mental anguish that I am now a broken shell of a man. Alex Lloyd and I also dressed like muggers to drive semi-comfortably with the top down in the Austrian Alps.)
Like previous years, the 2014 R8 will come in a number of flavors depending on what you desire out of life. The cars are available with a 430-horsepower V8 or a 525-horsepower V10 and come in coupe or spyder body styles. The biggest development is the addition of the R8 V10 Plus, a 550-horsepower version of the car that is also 50 kilograms lighter than the bog standard V10. Audi has also replaced the flappy paddle gearbox with a double clutch unit that they've dubbed S-Tronic, which is something they wanted to show off.
Think of the V8 R8 as a Porsche 911 competitor and the V10 R8 as a Lamborghini Gallardo and 911 Turbo competitor. Yes, all of those cars are built by VW Group brands. Yes, all of those cars are great. That means the R8 has to be pretty damn fantastic to have a hope in hell of being a competitor.
It is.
When the hot rod Audi first hit the roads, there was a lot of second guessing the styling. "That front end looks like a robot." "What the hell is up with that weird side blade thing?" But if you hated it when it first came out, I'm betting you like it a lot now. After seven years, the car still looks modern and fresh. It was ahead of its time.
For 2014, there are some small changes that sharpen the car up more. Audi loves LEDs, and the car has LED headlights and LED accent lights; They all look great. In the rear, there is a very funky new sequential indicator setup which I find quite cool. The exhaust pipes are now massive gaping circles that you could use as a grapefruit cannon. I'm a fan.
But viewed from behind, I noticed that the R8 looks very Murcielago-ish now, which I find an unfortunate choice. The R8 is mechanically similar to other cars in the VW stable so it needs to be totally different from anything in the VW family to keep comparisons like that away. It's a small failure, but not an insignificant one.
INTERIOR (8/10)
I've said this before: Audi really knows how to make an interior. This thing is quality. The flat bottomed wheel is the perfect size, especially in the Plus model, which is covered in Alcantara. For the seats, there is a new diamond pattern available for the leather which looks bespoke and handmade. It's also mirrored on the Alcantara headliner.