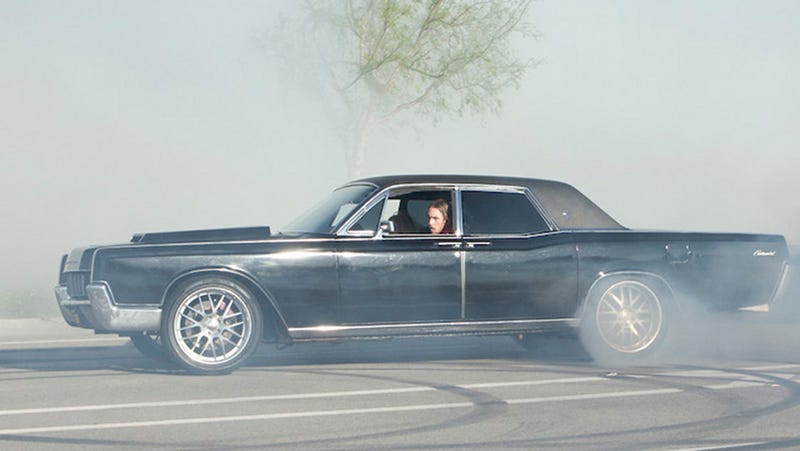 Remember that funny looking guy from Idiocracy? No, not the guy with the jaw, the guy with the big nose. That's Dax Shepard. Well, it turns out he's a serious car nut and just made the first-ever car movie that your girlfriend's going to want to watch. The other night, we fired up his 650 wheel horsepower Continental and cruised up to the Burbank Bob's Big Boy to eat burgers and talk about doing your own stunts.
An effete Hollywood-by-way-of-New York-and-London type, I'd never even looked inside a Bob's Big Boy. "I personally think that the Big Boy is the good burger," Dax suggests helpfully. "I'm going to get the Super Big Boy with two side salads and well done french fries. It comes with Red Relish, but I don't like it, so I get Thousand Island instead. That's how they do it back east."
Dax is from the Detroit area, where his first job was delivering cars for GM's press fleet. But before we could talk about that, Armando, our waiter (Dax knew his name) was asking me what kind of salad dressing I wanted. "They sell it at Costco, that's how good this blue cheese is," Dax expounds.
Wait, Costco?
"Costco is my favorite place on the planet. You have to go and I'll tell you why: the prices are fantastic, that's a given, but they also have the best return policy in the world. I bought a floor jack there like six years ago and it just recently broke. Like a really nice, three-ton, all-aluminum floor jack. so I go in there without a receipt and it turns out it was on my ex-girlfriend's card. They look that up, see the jack on there, open the till and hand me $128, cash."
"I filmed this movie Employee of the Month at a Costco in New Mexico and got to know the staff there. The employees are ecstatic to be working there, compare that to WalMart, which is like a prison."
Scenes of branded sweat pants from Idiocracy are filling my head, but I'm won over when Dax points out stuff from his really, really nice house in Los Feliz, saying, ""Half my home is from Costco. Whirlpool top-of-the-line washing machine? Costco. Furniture? Costco. Trips to Bora Bora? Costco.com. Those cedar doors on my garage? Costco."
They are really nice cedar doors. But I don't own a car and 86 packs of toilet paper won't bungee nice to the back seat of an Aprilia RSV4. Dax suggests I just book more practical press cars.
"I would get back minivans where some journalist had taken all the seats out and used them to haul bales of hay. Every inch of the interior was covered in hay."
Press cars are great for stuff like that, right? I told him the story about the time I drove a Ford Raptor in the ocean and the people from Ford were super cool about it.