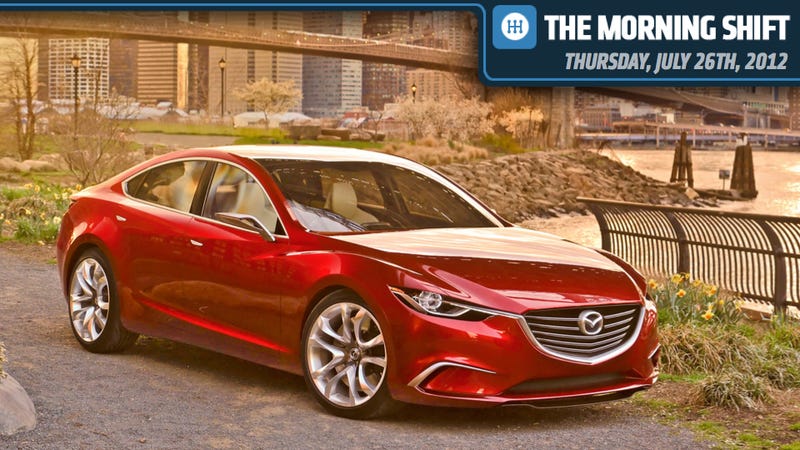 This is the Morning Shift, our one-stop daily roundup of all the auto news that's actually important — all in one place at 9:00 AM. Or, you could spend all day waiting for other sites to parcel it out to you one story at a time. Isn't your time more important?
---
1st Gear: Volkswagen Keeps Marching, So Does Hyundai
The Wall Street Journal (sub. required) reports that Volkswagen is not letting up on its profits push. It reported a 20 percent increase in net income this morning, earning $6.76 billion in the second quarter. And, despite all the gloominess surrounding Europe (see Ford below), VW is staying with its forecast for the second half, partly because it is doing so well elsewhere. "Our strong position in the international markets will enable us to outperform the market as a whole-despite the challenging environment," CEO Martin Winterkorn said.
Meanwhile, the other global juggernaut, Korea's Hyundai, said its second quarter net income rose 10 percent, according to Bloomberg. Hyundai earned $2.2 billion during the second quarter, and actually saw stronger sales in Europe. But Hyundai is cutting its international sales forecast, and it does expect a European slowdown later in the year.
We've got one more big company to tell you about. Reuters says Nissan's net income fell 15 percent during the second quarter (which is the first quarter in the Japanese fiscal year). Nissan had higher incentive costs in the U.S. because it's clearing out older models, and it also is getting hurt because the yen is so strong.
---
2nd Gear: GM Can't Get Over Its Bad Boyfriends
The Huffington Post says General Motors' political action committee donated to members of the House and Senate who voted against the 2008 Congressional bailout. Congress' refusal to provide money to the carmakers was the reason why they turned to the Bush and Obama administrations for help in various ways. Huffington Post says one of the recipients of a GM contribution was Tennessee Sen. Bob Corker, who led the Republican opposition that killed the bailout bill. GM made three individual contributions, to House Speaker John Boehner and Majority Leader Eric Cantor, who opposed the bailout, and to David Camp, a Michigan lawmaker who chairs the House Ways and Means Committee (Camp voted in favor). GM spokesman Greg Martin says the donations are consistent with GM's business strategy.
---
3rd Gear: Muscovites Will Get To See The New Mazda6
The 2014 Mazda6 sedan will make its global debut during press preview days at next month's Moscow International Automobile Salon (teasers show it to look a lot like the Takeri Concept pictured above). It will be the second Mazda to feature Skyactive technology, which is a Mazda effort to develop lightweight, fuel efficient vehicles. The Mazda6 will have a Skyactive 2.0-liter engine mated to a Skyactive six-speed automatic. According to Mazda, the vehicle also will feature "i-ELOOP," the world's first capacitor-based regenerative braking system. In real-world driving conditions, which involve frequent acceleration and braking, i-ELOOP, a name derived from "Intelligent Energy Loop," will improve fuel economy by up to 10 percent. More information will be announced during a press conference on Aug. 29.