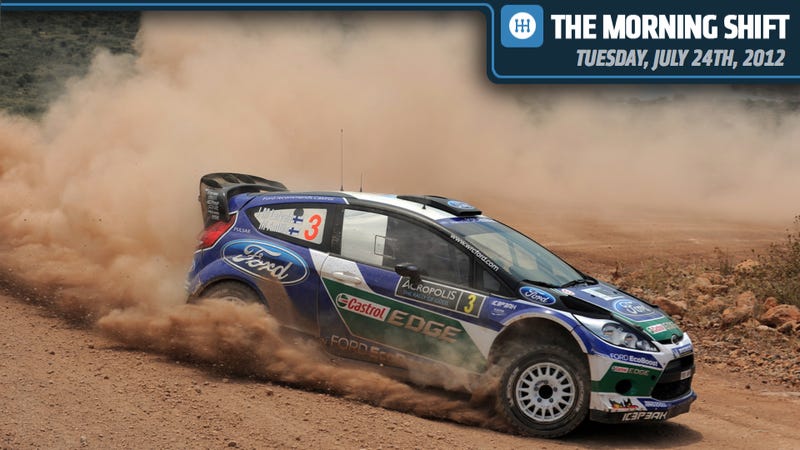 This is the Morning Shift, our one-stop daily roundup of all the auto news that's actually important — all in one place at 9:00 AM. Or, you could spend all day waiting for other sites to parcel it out to you one story at a time. Isn't your time more important?
---
1st Gear: China Badly Wants Into The Canadian Oil Market
The CBC says the Chinese National Offshore Oil Company (CNOOC) has reached a deal to buy Nexen Inc., a Calgary oil and gas firm, for $15 billion. It's the largest overseas transaction that China has ever attempted and you can bet this is not going to go down quickly or easily. China is offering a 61 percent premium on the closing price of Nexen stock. Although Nexen officials said they thought everything would go smoothly, the Canadian government will have the final say. In particular, the deal will require the federal government's sign-off in Ottawa under the Investment Canada Act, which requires some foreign takeovers of Canadian companies to pass the "net benefit test" of being deemed a useful contribution to Canada's economy.
If you've heard the name Nexen before, it's probably in relation to the company's Long Lake oil sands project in northern Alberta. It's never come close to the promised capacity, due to a whole bunch of design glitches. Nexen actually is an international powerhouse when it comes to energy production, and just 28 percent of its output comes from Canada. CNOOC is China's third-biggest energy company but probably its highest-profile one. You might remember the uproar that happened in 2005, when it tried to buy Unocal.
---
2nd Gear: Finland, Here We Come
Christopher Duplessis and Alex Kihurani are trying to become the first All-American team to compete in World Rally Finland in nearly 40 years. They are trying to raise $10,000 in order to land funding, and are doing a Kickstarter-type campaign. While there's a big Ford Racing logo on their video, they say they plan to use it to cover world racing fees. The Finland stop on the World Rally tour is insanely popular, with 10 percent of the country showing up to watch. This would be the first U.S. team to enter since 1973. There's lots of swag for any one who donates and if you don't want to contribute, the team also wants your Facebook support.
---
3rd Gear: NHTSA Probes Fires In Jeep Grand Cherokee
Reuters says federal officials have opened investigations into the 2012 Jeep Grand Cherokee and 2009-2010 Dodge Ram 1500 — the automaker's two best-selling vehicles in the United States. The Jeep Grand Cherokee, which Chrysler re-launched last year amid a lot of hoopla, is being investigated for a potential power steering hose failures that could lead to under-hood fires. The probe involves 106,800 Grand Cherokees. NHTSA also is investigating potential rear differential failures that could lead to rear wheel lock-up and loss of vehicle control in about 230,000 Dodge Ram pickups. Chrysler says it is cooperating.
Meanwhile, VW is recalling 83 of its 2012 Beetles because their tires don't meet federal safety requirement. The tires could end up being overloaded and under-inflated, increasing the risk of a crash. VW said it would replace the tires for free.
---
4th Gear: GM, Ford Shares Hit New Lows For The Year
The Associated Press reports that shares of General Motors and Ford hit new lows for the year on Monday, amid fears the European market crisis will hurt both companies. GM briefly dipped to its lowest price since the company re-entered the stock market in 2010, after its federally sponsored bankruptcy. That can't be good news for CEO Dan Akerson, who can't wait to get the Treasury Department out of his hair. Shares of Toyota, Honda and Nissan also fell in U.S. trading. Ford is scheduled to report its first quarter results on Wednesday, while GM will report its numbers next week.
---
5th Gear: Bowling Green Cracks Down On Distracted Driving
Northwest Ohio reports on an effort to ban distracted driving in Bowling Green. The state of Ohio is already set to ban texting and driving, but the new law in Bowling Green would go much further, banning eating, drinking any beverages, gazing out the window and even changing radio stations, if the actions take a driver's attention away from the road. The actions could result in a $25 ticket. There already are concerns the ordinance is too broadly written, but some safety advocates say extreme measures may be what's needed to keep peoples' eyes on what's in front of them..
---
6th Gear: What The BMW M6 Gran Coupe Might Look Like
Car and Driver came up with a rendering of what to expect from the BMW M6 Gran Coupe, which is supposed to arrive in the United States in 2014. So far, camouflaged versions are the only ones that have been running around. It predicts the M6 Gran Coupe will get M-specific wheels, aggressive fascias with bigger intakes up front, and M5/M6 hardware underneath. To the magazine, that means a 560-hp twin-turbocharged V-8, a seven-speed dual-clutch automatic, and rear-wheel drive. It also thinks a carbon-fiber roof panel, like those on the M3 and M6 coupes, is a possibility for the M6 Gran Coupe. But BMW isn't saying yet whether that's in store.
---
Reverse:
Inside BMW's Olympic Pavilion [Automotive Addicts]
How Six Small SUVs Match Up [Cars.com]
Sauber Is Silent On Volkswagen Rumors [Crash]
Chrysler Wants A Deal To Invest In Detroit Plant [Automotive News, sub. required]
NY GM Site Clean Up Workers Aren't Happy At Non-Local Help [Watertown Daily Times]
Peugeot To Make Light Vans For Toyota [Bloomberg]
---
Neutral
In keeping with our new discussion system, here's a place for you to own the floor. We're asking each day what you think about an issue that comes up in TMS.