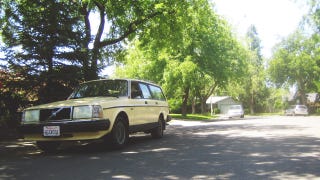 When I was growing up my dad named each car we owned by their color. There was the red car, the white car, the yellow car (above), and finally the blue car. This year I finally found out the reason why.
It wasn't because it was easy to call the cars by their color, but that he purposefully didn't want any of his children to identify with any brand. Cars would just be anonymous, wheeled, motorized conveyances. In spite of this almost anti-car attitude, I ended up becoming a complete obsessive.
We brought in artist Donnie Molls to answer questions today and we got some great responses. My favorite was when he explained how his dad got him into what he does today.