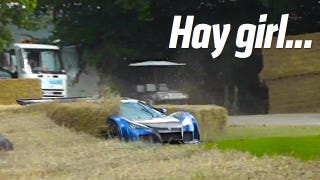 On Saturday night I was due to be at the Goodwood Festival of Speed Ball. Oh how excited I was! However, by 7:00 pm I was lying flat on a spinal board with women plucking straw and glass from my noon.
For those of you that haven't dated an Essex girl a noon is a more delicate term for bearded clam, cupids cupboard or furry taco.
I obtained a pubic mound that Worzel Gummidge would have been proud of in a Gumpert Apollo after my driver decided to imitate stunt man Terry Grant on Michelins Supercar run by going round Molecombe sideways and at about 85 mph.