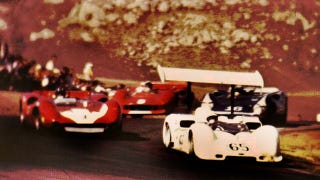 When Jim Hall debuted the unbelievably radical Chaparral 2E, the car that almost singlehandedly brought the idea of downforce to motorsports, Eric Broadley of Lola Cars joined the ranks of doubters and perpetual haters.
Jim Hall actually overheard Broadley when he said, "If Hall had the suspension right he wouldn't need that wing." Well, Broadley decided not to support the next generation of car designers and his cars got whipped on the track. And now his company is bankrupt. So there.
While we were discussing Shelby's racing history, we got a Broadley-esque comment of jovial skepticism from True-Blue has successfully rebuilt his Holley 4160.