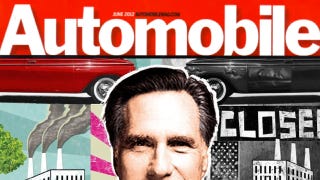 Since yesterday's Washington Post profile of a prep school-aged Mitt Romney showing the presumed Republican presidential nominee terrifying a kid everyone thought was gay, conservative outlets have been scrambling for another perspective on young Romney. They've found it in a softball piece on Romney from Automobile Magazine, that other great source of American political news.
When Romney was in prep school at the "prestigious Cranbrook School" he reportedly picked on some kid who may have been gay and definitely had bleached blonde hair. Here's the key part:
"He can't look like that. That's wrong. Just look at him!" an incensed Romney told Matthew Friedemann, his close friend in the Stevens Hall dorm, according to Friedemann's recollection. Mitt, the teenage son of Michigan Gov. George Romney, kept complaining about Lauber's look, Friedemann recalled.

A few days later, Friedemann entered Stevens Hall off the school's collegiate quad to find Romney marching out of his own room ahead of a prep school posse shouting about their plan to cut Lauber's hair. Friedemann followed them to a nearby room where they came upon Lauber, tackled him and pinned him to the ground. As Lauber, his eyes filling with tears, screamed for help, Romney repeatedly clipped his hair with a pair of scissors
Romney has sort of acknowledged/apologized for any vague "dumb… stupid" things he did in high school. Youthful indiscretions and all that.