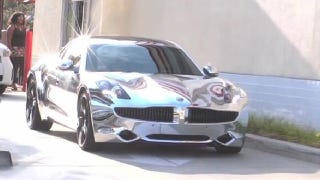 Last month, Justin Bieber got this Fisker Karma as a $100,000-plus 18th-birthday gift on the Ellen Degeneres Show. Now he's given the car a chrome wrap and a few other modifications that should have him watching out for more than just the fashion police.
Bieber's chrome wrap certainly attracts enough attention in the daytime, but it was clearly lacking in the "look at me" department at night. That's why Bieber tricked out his fresh whip with some sick underbody LED lights. Wicked!
While they do look awesome, these lights are illegal, as the State of California does not allow any lights ahead of the dashboard that aren't white or amber.
Like his Batmobile Cadillac, Bieber got all the work on this car done at West Coast Customs, and you'd think they wouldn't sell him a car in violation of state law.