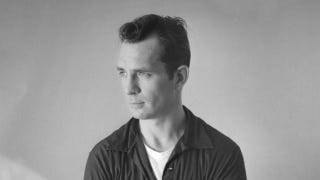 Jack Kerouac's birthday was this past Monday. That complex, sometimes brilliant, sometimes agonizing writer would have been 80 90. (Damn, we're all getting old.)The Beats are not a totally extinct species — Gary Snyder and Lawrence Ferlinghetti are still out there — but it's hard to find traces of the movement's truth in a world where the trappings may still be on sale, but the meaning is not a traded commodity.
On the Road is still a perennial favorite of those wanting their first taste of life away from conformist systems. It's an ideal starting point, not only because it conveys so much of the excitement but because it admits to the dangers and the finiteness of it all; after one last indulgent run to Mexico, Sal realizes that the life he knew can't continue. The time comes to grow up.
And sometimes that's not such a bad thing. You grow up, you try to come to terms with the system (Kerouac never did, hence his rather pathetic death in 1969), but you also try to keep a bit of the spark alive while knowing that reality demands, and benefits from, a certain civility.
You also learn to keep yourself safe in the face of those who know more than you, as Tonyola proved by not keeping anything in a secret compartment as he did a freewheeling trip through Mexico a good while back: