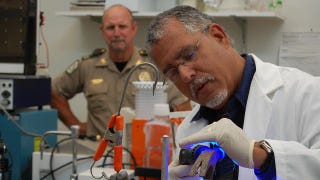 It's hard to watch more than a few episodes of CSI or Cold Case and not wonder why anyone bothers committing crimes in the first place. We leave little details and traces all over. Humans are remarkably sloppy creatures.
No, this has nothing to do with the dishes in my sink.
Evolution and cognitive development have granted us fantastic powers of reasoning, both inductive and deductive. If you concentrate on the right things, it doesn't take long for a situation to come together. A few hints, a few fingerprints, the right video clip from a security camera showing something wrong (sometimes even what's not there instead of what is) and the resolution of a mystery is as plain as the signature on an uncoerced confession.
The trick is to just let the pieces fall into place and let your brain take over, as happened to rad_mike while he was analyzing the photos from the unveiling of the fascinating new Alfa Romeo Disco Volante concept: