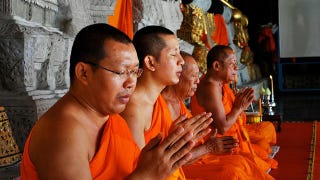 Humans are an intelligent, contemplative, reflective species. There is sound psychology behind the call of many religions to set time aside to be still and consider one's place in recent things, where one is going, and what one is really doing.
So it is with Formula 1. As the testing season ramps up and we come to grips with another new and rather odd-looking set of cars, maybe we should realize that step noses and diffusers aren't the point. Yes, they matter as far as outcomes and sponsorships and records, go, but is that what really matters?
Is that what racing is? Think about it. Why do you care? What does this do? Why the love of the sound and the fury? Is it about numbers, or is it about the soul?
So breathe deeply and consider the insight of robertfoster, who sees in the gorgeous quicksilver-livereied McLaren MP-27 a reflection of what it means to race: