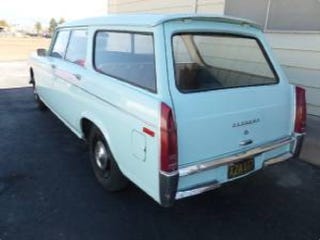 On the Internet, a 404 error means a broken or dead link at that particular address. Today's Nice Price or Crack Pipe Peugeot 404 is a link to the Gallic past, but will its price make you point your browser elsewhere?
They say there's six degrees of Kevin Bacon, and much like that well connected actor, there are certain threads that bind together Volvo and Peugeot. One of those is the odd 90-degree PVR V6 used by the Swedes, Peugeot, and Renault in the '70s and '80s, and the other is the fact that yesterday's 1966 Volvo 122S is being followed today by a two-year newer Peugeot 404 wagon. Plus, both cars are painted sacre bleu. Coincidence? I think not.
That Swede was fully restored and as such commanded a hefty price. The thing is though, Amazons that nice are about as rare as a feel-good Swedish film, and its condition garnered it an equally weighty 78% Nice Price win. Today, we'll see how the French do in comparison.