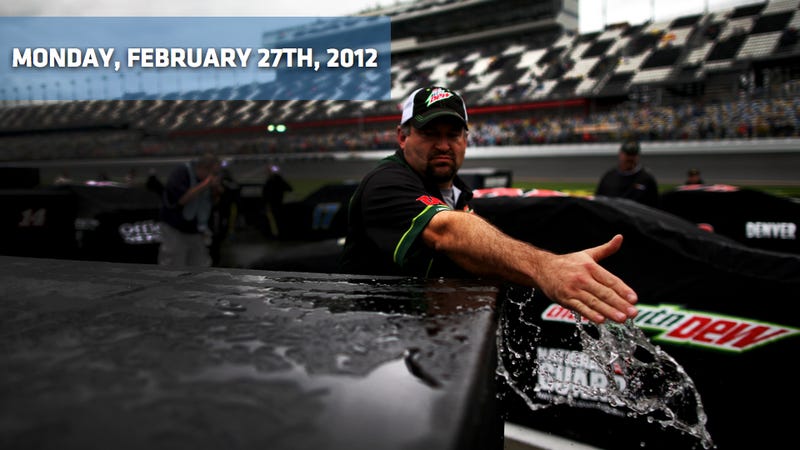 This is the Morning Shift, our one-stop daily roundup of all the auto news that's actually important — all in one place at 9:00 AM. Or, you could spend all day waiting for other sites to parcel it out to you one story at a time. Isn't your time more important?
---
1st Gear: Daytona 500 Postponed For First Time Ever
The Daytona 500 was postponed Sunday for the first time in its 54-year history after heavy rain soaked Daytona International Speedway. NASCAR officials spent more than four hours waiting for a window to dry the famed track, but it never came. When the latest storm cell passed over the speedway around 5 p.m., they had little choice but to call the race. The 500-mile quadruple-left-turn was rescheduled for noon today and will still be aired on Fox. But Monday might be another test as the forecast calls for more rain, but officials are prepared to wait it out all day and into the night to avoid a Tuesday race, which would be almost impossible for teams that must get to Phoenix for next week's race.
---
2nd Gear: Mitt Romney's Best Friends Are Nascar Team Owners
Visiting the rained-out Daytona 500, Republican presidential hopeful Mitt Romney again showed his "man of the motoring people" bonafides. The man-from-La-Michigan, responding to a question of how closely he follows the sport, acknowledged that he isn't necessarily a hard-core fan but has a working knowledge of the sport and friendships with some of the people involved in racing. "Not as closely as some of the most ardent fans," Romney said. "But I have some great friends that are NASCAR team owners." But of course you do.
---
3rd Gear: Another Teaser Of The Ferrari F620 GT
Two days away from seeing the sheet ripped off the top of Ferrari's latest supercar — the Ferrari F620 GT — the prancing stallion brand's released a new teaser video. And here it is. Oh, and if you want to know what the car actually looks like — here's the first photo.