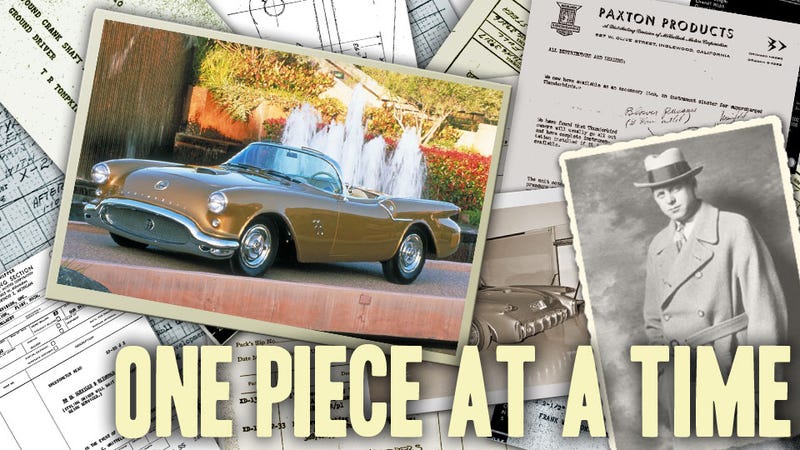 Henry Ford may have popularized the American car, but it was legendary General Motors Designer Harley Earl who, through his concepts, made it sexy. One example — the Corvette's twin brother, the Oldsmobile F-88 — was so desirable, Earl secretly crated the entire concept car out of GM and shipped it, piece-by-piece, to his friend and former competitor.
What do a 1950s Oldsmobile concept car and a Cadillac from a Johnny Cash song have in common? They both left the factory one piece at a time.
Today, the 1954 Oldsmobile F-88 concept car — a one-time star of General Motors' glitzy Motoramas — sits, silent and spotless, atop a rotating platter in the Gateway Auto Museum in Gateway, Colo. It is the out-of-the-way museum's crown jewel, and with its last price tag a staggering $3.24 million, it's easy to see why.
John Hendricks, founder of the Discovery Channel and owner of the museum and surrounding adventure resort, set the auto purchase price record when he bought the F-88, the only one left of two, at the Barrett-Jackson classic car auction in Scottsdale, Ariz. in 2005.
How it got to that auction is a story fit for a Hollywood script — not surprising considering designer Harley J. Earl's Hollywood connections. So many striking features of modern automotive — and consumer electronics — design, showboating and sales come from Earl's innovations: Clay modeling, auto shows, planned obsolescence, the concept car.
Back in the 1950s, when the General still commanded America, Earl was at the apogee of a grand career. Together with GM CEO Alfred P. Sloan, the former Hollywood custom car builder had taken Henry Ford's practical, but stodgy vision of American roads covered with utilitarian black vehicles and turned it on its head.
"In the mid-'50s, if you asked anybody who was anybody in the auto industry, they'd say Harley was the dominant figure at GM at the time," said Richard Earl, an automotive historian and Earl's youngest grandson.
Earl had an eye for aesthetics, and injected swooping curves and bold embellishments to objects that had up to that point been, more or less, appliances. Having caught the eye of Cadillac coachbuilder Lawrence Fisher, Earl ended up designing the 1927 LaSalle. Anti-art car resistance from tradition-minded execs soon melted away as Sloan embraced Earl's flamboyant style, putting him in charge of GM's new Art and Color Section.
Within a decade, Earl's team had created the world's first concept car, the 1938 Buick Y-Job. Ten years later, concept cars were part of GM's burgeoning Motoramas, the precursors to modern auto shows. Earl was in charge, and his reign was adorned by space age snouts, ever-rising tail fins, bullet-like chrome and glass protrusions and glittering, mouthy grilles.