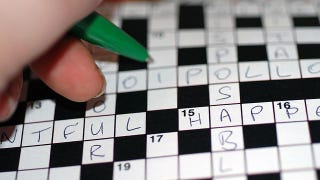 It's Friday. Glorious, blissful, yes-I-can-relax-a-bit Friday. Thank you, passage of time. Thank you, Emperor Constantine who invented weekends past the Sabbath day. Time to just let it all drop for a while.
And time for other pastimes. Yay for recreational mental activities: reading, home projects, second-guessing the Lakers' defensive strategies. And puzzles. What's more civilized than kicking back on a Sunday morning with a good cup of coffee and the crossword from the paper? Okay, it may not have the excitement of race preparations, but it's gonna snow here tomorrow; the race season will come when it does.
Time to think of something for fun. No stress, no psychosis, just a pleasant challenge.
So, for your entertainment, we leave you with a puzzle from Marimvibe, Queen of Scotch, who tackled the puzzle of what's up with those awkward new F1 nose cones: