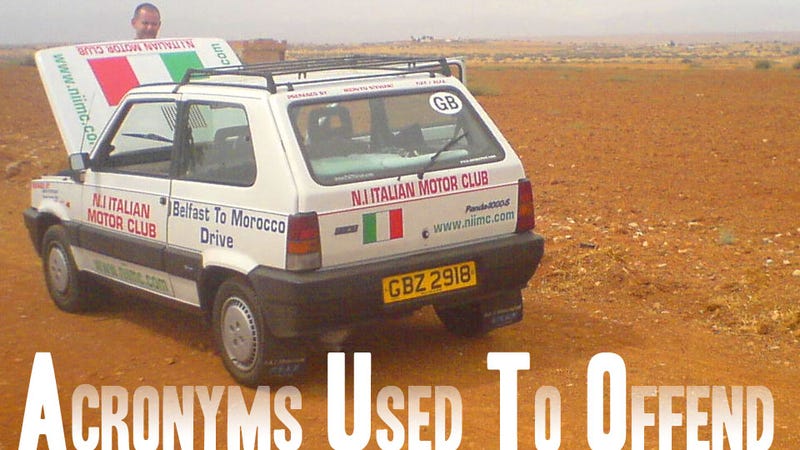 I was pleased when Fiat announced their return to America, but, now that the brand is settling in, I realized there's an issue. See, any new 500 driver with a flat or a dead battery is now going to have to endure the cries of "Fix It Again, Tony!" — the beloved-by-many-meatheads derogatory acronym for Fiat — from passing motorists, which many Americans have been desperately waiting two decades to once again yell.
The problem is, it is a pretty sick brand-name-acronym burn, and there's hardly any others to shout back. There's Ford's "Fix Or Repair Daily" and there's a painfully cruel and racist one for Pontiac I won't mention here (and keep it out of the comments, please — we'll ban you if you do — period), but beyond those two, what's a driver to yell at stranded motorists in any number of other cars? Clearly, there's a hole to be filled here, and that's where I come in.
So I've solved your problem. Below please find insulting acronyms for every major marque sold in the US. If I've missed one, or readers in other parts of the world want to make some for, say Citröen or Proton, have at it. But keep to these rules:
• The acronym has to use all the letters in the brand's name, with occasional articles and prepositions squeezed in if needed
• The acronym has to be insulting to the car or driver or company
• Generalizations about national character and stereotypes are fine, just keep it from going into out-and-out racism
Great?
Great.
If we see any good auto acronyms in the comments, we'll add 'em to this list too — and give you credit.
Now, you'll probably want to print this out and tape it to your dash for easy reference. Enjoy:
Acura:
All Customers Undergo Repair Anxiety
Alfa-Romeo:
All Loosely Fitted Accessories Remain On Motorway Enraging Others (via Blue Meanie)