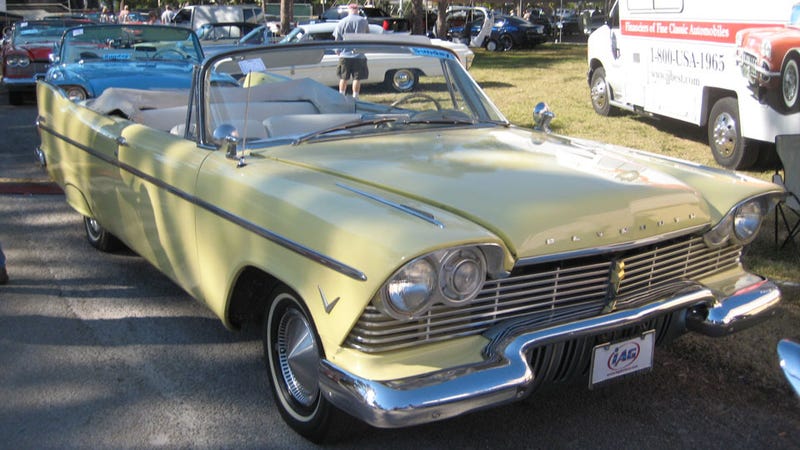 Chances are pretty good that if you pick a random weekend, somewhere in America there is a collector car auction. These events range anywhere from a piece by piece outdoor sale of an old Midwestern junkyard to the bright lights and ultra high dollar insanity of a Barrett-Jackson event.
What you won't be able to find at almost any of these various auctions is what I stumbled upon at last weekend's Ft. Lauderdale Beach Collector Car auction—a collection of 3 ultra rare 1957-1958 Plymouth Convertibles in one place.
It's fairly well known that Virgil Exner's design is what made the 1957 Plymouth the third best-selling car in America that year. It's also fairly well known that the poor build quality of the 1957 Plymouth and the only slightly redesigned/improved 1958 model is what damaged the company's reputation for decades to come. The result was two years of beautiful cars that had serious design and rust issues almost from the day they left the assembly line.
Accordingly the survival rate of 1957 and 1958 Plymouths is unbelievably low compared with many other American cars built in the same time period. This makes any Plymouth from the late 50s a fairly rare sight, especially in convertible form. For this reason, it was almost unbelievable to find out that not one but three of the rare beasts would cross the block at the Florida auction. As a longtime 1957-1958 Plymouth obsessive and someone who attends a decent amount of car auctions, I knew how unusual three convertibles being sold in one place was.

9 or 10 years earlier I had seen a 1958 Plymouth convertible (which may or may not have been the red one pictured here) and a 1957 Plymouth convertible together at an Atlantic City car auction. The 1958 was very nice and had a now absurdly low reserve of $22,000 attached to it—neither cars sold. Since then, when a convertible Plymouth of this vintage crossed the block, it was usually the only one of its kind.