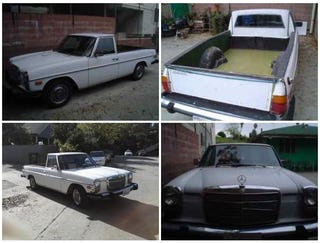 If you like German cars and El Caminos, you're pretty much going to have to either pick up a Sawzall yourself or buy something someone else's home-built pickup. Today's Nice Price or Crack Pipe
der Straße is the latter, but does its price make it more BM than MB?
A good rule of thumb is that if an Audi was expensive when new, it's most likely going to be even more expensive when it gets old. And, add the strain of aftermarket mods to the equation and you'll see your money disappear faster than by giving it to the Herman Cain campaign That, at least, was the consensus of the 70% of you who voted down yesterday's big-ol' hairy S4 in a Crack pipe loss, considering it the monetary equivalent of that thing they tried to throw Luke into in Return of the Jedi. I guess that was an auto for which no one wished a union.