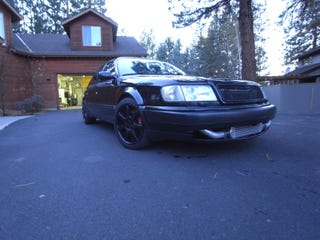 Audi's badge is four interlocking rings, which represent the quartet of makes that combined to form the Auto Union. Today's Nice Price or Crack Pipe S4 may not carry that badge on its nose, but is it also saddled with a price that will make it hard for the seller to lock up a deal?
If your interests lean towards Teutonic sedans with all-wheel drive, you have many an option, and all of the big four - VW, Audi, BMW, Mercedes Benz, and now even Porsche - offer such fare. But if you want all wheels turning in your German sedan, but also require an engine that hangs over the fronts like a pendulous pudendum then you're pretty much limited to the wares of Audi, and their Quattros.
We had an S4 here a few months back, however that ruby Tuesday car was mostly stock and carried a bargain basement price reflecting its age, wear and tear, and potential for future wallet obliteration. In contrast, today's 1993 ur S4, while far from perfect, has had a lot of the wear replaced with were-wolf, and carries a commensurately higher, but still descending price tag.